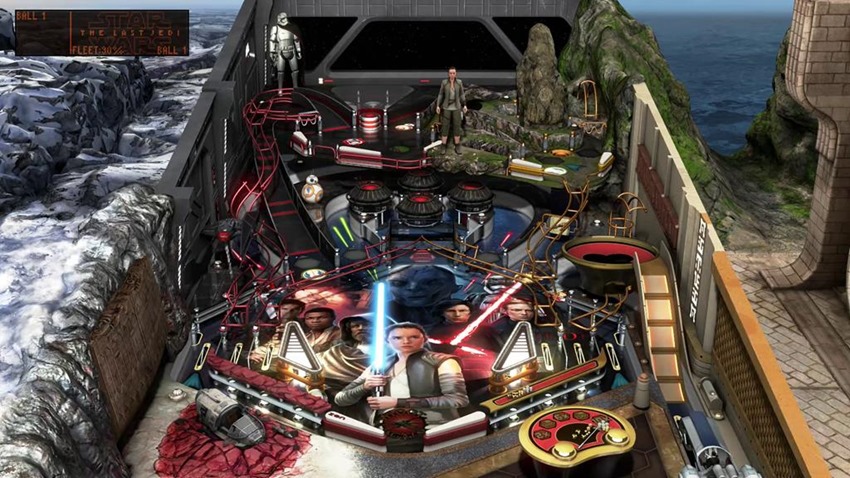 Love it or hate it, but there's no denying that last year's latest Star Wars film was a game-changer for the franchise. While The Force Awakens may have been a familiar romp with updated visuals and characters, The Last Jedi felt like a transitional film. A movie that stuck a lightsaber through the torso of its established tropes and sliced it clean in half as it sought to send a new message: Don't hang on to past, but don't forget it either.
It's a lesson which developer Zen Studios has kind of adopted for their latest Star Wars themed pinball tables, a pair of new ball-whackers which spreads the usual design philosophy over two new areas within which to send a shiny silver orb careening all over the screen. First up, you've got a pinball table set on Ach-To Island, which features Rey Last Name Withheld, Luke Skywalker and a bunch of delicious Porgs cheering you on:
Luke Skywalker (reluctantly) welcomes you to his secluded hideaway. Train Rey in the ways of the Force, convince Luke to join the Resistance and help Chewbacca deal with some Porg problems. You'll even get a taste of everyday life on the island as Luke, including reminiscing about his Rebellion days through R2-D2's hologram projections. And when the lights go off during a multiball mode? Let's just hope the Force is with you…
It's alright! It's a passable table, one that feels like a typical pinball experience that has been lovingly crafted. It has a few neat traps, charging up the Millennium Falcon is a fun side-quest and having the Porgs squawk around you is oddly endearing. In many ways, it's your typical Star Wars pinball table, a comfortable and familiar journey into territory already covered.
And then there's the other side of the coin, the proper The Last Jedi table:
Survive a First Order onslaught as the Resistance, train Rey in the ways of the Force on Ahch-To, and defend Finn from Captain Phasma, blasting away at stormtroopers as BB-8. Jump a ramp to shoot down TIE fighters, fight off Kylo Ren's TIE Silencer, and teach Rey that the Force isn't just moving rocks!/quotes]
Now we're talking business! This is a pinball table that is packed with action, has plenty of extras waiting for you and requires precision bumper-targeting to unlock them. It's the deepest table of the lot, gorgeously stylised and the voice actors who step in for the most iconic characters of the new trilogy are dead ringers for the original actors.
What more could you ask for? Bright lights, loud sounds and some flashy design makes the latest tables from Zen Studios strong with the Force. See you around, kid.
Last Updated: April 19, 2018