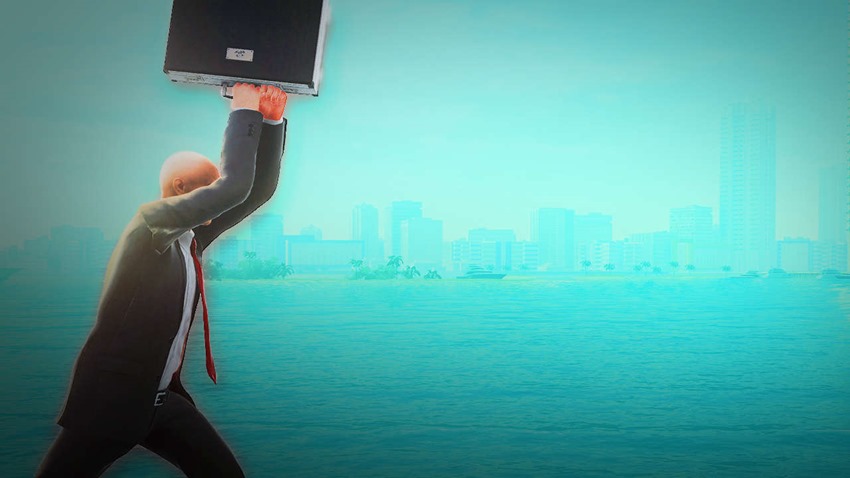 No matter which way you slice it, IO Interactive's Hitman 2 is a miracle. Here is a game that allows players ample freedom within which to pursue a target and kill them in a variety of lethal ways that range from deliciously ironic scripted events to simple bullets to the head if the fancy strikes you. Getting from your starting point to the eventual finish line that is your target is where the game shines as players need to move between disguises and locations if they want to complete a contract.
Doing so also means that you're going to be using everything from rat poison to screwdrivers to incapacitate anyone who stands in your way. Or if the going gets tough, you could have used the hilarious homing briefcase that Agent 47 carried around with him:
Before it was patched out, that meme summed up Hitman 2 at its finest and silliest. A piece of luggage magically curving past the forces of gravity itself just so that you could knock a random NPC unconscious. This month, that briefcase makes a return as IO Interactive revealed what lies in store for contract killers in August. "Is it a bug? Is it a feature? No! It's an unlock! The Homing Briefcase is back!," IO wrote in the August roadmap update.
This physics-bending briefcase is designed to induce fear and terror in whoever gets in its way. With a throwing speed tweaked for maximum style, there is no end to the possibilities this item offers. Of course, it sports the signature MK II look – the ultimate mark of superb craftmanship! Could be used to hide illegal items but that is clearly beside the point.
You're damn right it is, IO. In addition to that, here's what the rest of the month looks like: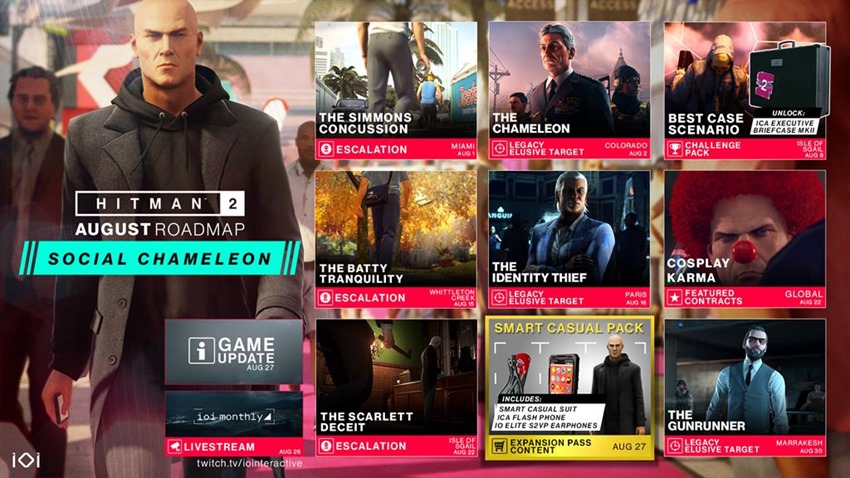 August 1 / Escalation Contract
Start the month with a boost of energy from Jester. This revolutionary energy drink gives you all the power you need to complete Escalation Contracts – and more! Stay on top of your game and enjoy all the benefits that only Jester can provide. This message was sponsored by Jester energy drink. Put an end to this madness by throwing soda cans at joggers.
August 2 / Legacy Elusive Target: The Chameleon
Our monthly theme is all about using disguises and changing your appearances – so The Chameleon was the perfect fit. This Legacy Elusive Target is in Colorado and gives you the first opportunity to earn the Tactical Gear with Hunter's Hat. Pay close attention to the briefing for this one. The client has some specific requirements for you.
August 8 / Best Case Scenario Challenge Pack
August 15 / Escalation Contract
Mr Batty has had quite the adventure in the last few months. First, his package was indestructible; no matter what he tried, it just wouldn't open. Countless firearms and explosives were used to no avail. Then, finally, the package got completely destroyed. Now, an Escalation Contract has been named after him, which probably isn't the good news that he was craving.
August 16 / Legacy Elusive Target
Another Legacy Elusive Target with the perfect name for this month's theme. The Identity Thief is back in Paris and you'll need to take him out using any means necessary. Brendan Conner will be roaming the Palace grounds and attending the IAGO auction wearing an easily identifiable blue shirt and platinum hair. You'll have 10 days to track down Whistling Bob and complete the mission. Good luck.
August 22 / Featured Contracts
Inspired by this month's content theme of Social Chameleon, we're looking for Featured Contract Submissions that fit the theme of 'COSPLAY KARMA'. Our themes for Featured Contracts are purposefully open-ended to make sure that the talented Contract creators in the community are free to interpret them in many ways, ensuring some fun and varied contracts.
Head on over to the dedicated Featured Contracts Submission Thread to submit your contracts for this month's theme. Submissions close at 9 am CEST on August 12, so get your submissions in before then!
August 22 / Escalation Contract
We're back in Isle of Sgail for The Scarlett Deceit, an Escalation Contract that uses a variety of tools and weapons. Spare a thought for the Butler in this one, we've got a feeling that he's going to be on the end of a lot of blunt weapons and probably a few lethal ones too.
August 26 / IOI Monthly #6
Lights, camera, action!
IOI Monthly will return in August as your go-to livestream for IOI and Hitman news! We'll be bringing you the latest information on game updates, new content and insight from the development team. With no Expansion Pass content drop this month, we're planning a different kind of stream that promises to be exciting for the entire family!*
*Members of the family who are interested in HITMAN 2 will likely enjoy the stream significantly more.
August 27 / Smart Casual Pack
The Smart Casual Pack is included in the Expansion Pass and adds a new suit and two new items to Agent 47's inventory. Suit up and equip these new items to complete your missions in style.
August 27 / Game Update
Our major update for August arrives late in the month and on the same day as the Smart Casual Pack. Expect a range of improvements and fixes to all aspects of the game, including issues reported by our community. We'll have more details to share on IOI Monthly # 6 and the full release notes will be published before the game update is available to download.
August 30 / Legacy Elusive Target
The Gunrunner was the 5th ever Elusive Target and returns for the first time in HITMAN 2 for 10 days. Marrakesh is the destination and Vito Duric is your target. Make it count.
If you' like a taste of Hitman 2, the opening Hawkes Bay mission is available right now as a free download. Try it out, maybe you'll like it and then we can do some multiplayer in the rather superb sniper assassin mode which just recently released a Siberia map. Trust me, it's rather excellent stuff.
Last Updated: August 2, 2019