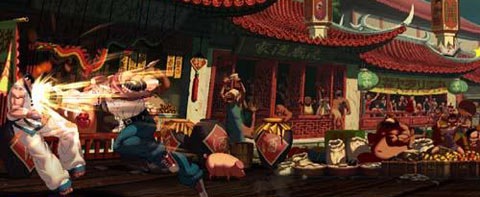 I finally managed to get my hands on Street Fighter IV this weekend and it really is everything that I expected it to be and then some. I also played quite a lot of the HD Remix version that was released on Xbox Live last year and it impressed me to no end as well.
Capcom's fighters, while brilliant, aren't everyones cup of tea though and if you are a gamer who prefers their fighting games in the two dimensional flavour, then King of Fighters may be exactly what you are looking for.
King of Fighters XII is set to release this July on Xbox 360 and PS3 and will also feature a brand new HD look thanks to everything being hand drawn in a super high resolution and animated to keep the visuals fluid and as gorgeous as ever.
The press release has the following to say about the upcoming title:
"The legendary 3-on-3 fighting game series that united rival brawlers from SNK Playmore's classic arcade franchises celebrates its 15th Anniversary in style with the release of The King of Fighters XII. For the first time in its history, this epic martial arts showdown has undergone a complete graphical overhaul. The antiquated character sprites used over the past 14 years have been dropped in favour of all-new, high-resolution fighters fluidly animating across painstakingly detailed, 100% hand-drawn backgrounds."
Screenshots, trailers and more details are expected in the near future. It all sounds really awesome. Question is, will it be good enough to dethrone the mighty Street Fighter series?
Source: VG247
Last Updated: March 4, 2009