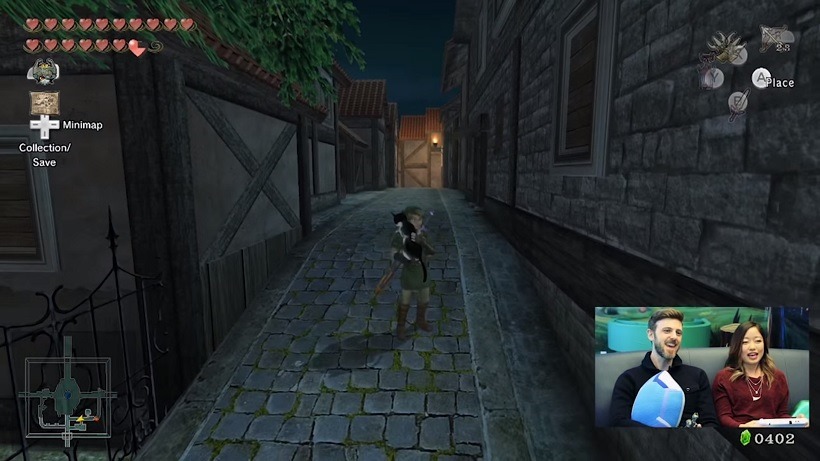 The Legend of Zelda might not be getting a brand new entry until later this year (we hope) but is getting a brand new shiny HD remake to make the wait a little more bearable. And lucky for me it's one I haven't touched yet, with the Gamecube and original Wii version of The Twilight Princess being remastered for the Wii U. And it certainly looks remastered indeed.
That's just from me looking at some old stills and comparing it to the cleaner, more detailed gameplay footage Nintendo shared over the weekend. Nintendo Minute (which is never, ever just a minute) shared a healthy amount of new gameplay that explores the game's main town, a dungeon at the end and the advances in cat cuddling technology that only new consoles can provide. Just look how loving Link holds that stray. Heart melting stuff.
There's also more insight into how the new Wolf Link Amiibo will work with the game, as well as a detailed look at the incredible beautiful piece of plastic. It's a rather large Amiibo by Nintendo standards with a lot of detail too, and it just seems that these things keep getting better and better with each wave. If only Nintendo actually figured out how to utilise them properly, that would be great.
But thankfully that isn't a problem for their Zelda remasters, which seem to be hitting all the right marks. The Legend of Zelda: Twilight Princess HD launches on Wii U in the first week of March, and hopefully will be the last Link filler until a brand new adventure unfolds on the Wii U later this year. Either that or we'll have a new NX exclusive to look forward to.
Just make it already Nintendo. I beg of you.
Last Updated: January 25, 2016