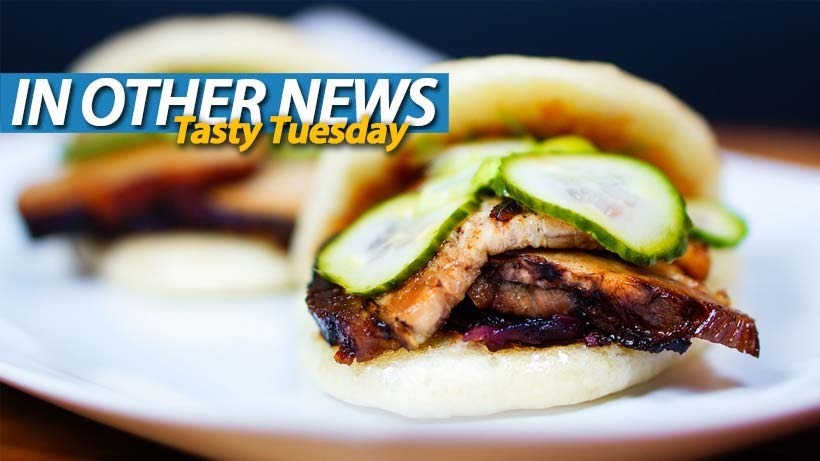 I have an unnatural love for street food. I think in any major city, you'll find the heart of the city in the food its little carts and stalls sell; quesadillas, tamales and tacos; pulled pork sandwiches, lobster rolls, falafels and shawarmas, even those "is this really meat?" doner kebabs.
I'm particular fond of Asian street food – and to mind, there are few better than Gua Bao; a Taiwanese steamed bun stuffed with a stewed or roasted meat – usually pork belly – with some pickled or fresh veg, and sometimes sprinkled with crushed peanuts. It's not too far removed from roasted pork steamed buns (yes, the ones from Sleeping Dogs, that make you a whole man) but they're lighter, fresher – and often tastier.
In Other News: Dying Light will soon disappear, Take-Two sued for Tattoo, Who owns ghost? and Nintendo is looking at VR. Again.
Here's the news we didn't post because we were too busy trying to trademark our infamous lack of reaction videos.
News
Call of Duty: Black Ops 3 gets massive patch, infinite voting for previous map issue, more
Tales of Symphonia is now on Steam
Original Dying Light will "disappear instantly" from digital stores on Feb 9
Buy-to-play MMO Black Desert Online launches in March
Tattoo studio sues Take-Two Interactive for $1,144,000
Nintendo says it is 'looking' at virtual reality
Disgaea PC is launching on February 24, dood!
EA and Ubisoft clash over 'Ghost' trademark
Stuff
There's a game developer Barbie doll on the way
A Nordic version of Harry Potter
Ultimate Chicken Horse is an early frontrunner for game of 2016
A studio goes broke, rises from ashes to release a strategy classic
Videos
What's on at The Movies
I'm not sure what's going on in this final trailer for Stephen Chow's THE MERMAID
PROMETHEUS 2 aka. ALIEN COVENANT going ahead without Noomi Rapace
Director Taika Waititi discusses some of the THOR: RAGNAROK rumours
We review SPOTLIGHT – Hard-hitting and powerful drama about an ugly truth
Star studded cast announced for upcoming film OFFICIAL SECRETS
Welcome to the big time in the new trailer for Melissa Rauch's THE BRONZE
Header Image source: Calvo Graphics
Last Updated: February 2, 2016