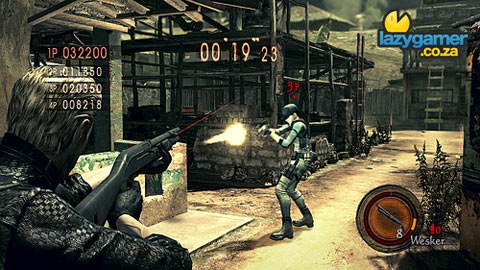 A rant on SarcasticGamer.com drew my attention to the fact that Capcom is going to be releasing multiplayer DLC that really should have been packaged with the game for free to begin with.
This new DLC is going to allow 4 people to play versus multiplayer modes, which in my mind, mean a lot of people standing around in one place and shooting at each other. They may as well have just released a Resident Evil 5 mod for Worms.
I'm not sure that this is what most people had in mind when they were told to "stand and fight". More after the jump.
The DLC is going to be priced at 400 MS points on Xbox Live and $4.99 on PSN, which is roughly around R50.
Resident Evil is not really the kind of game that caters to multiplayer versus modes, but no one would mind if it came with the game because, hey, it's more bang for your buck. Charge for it however and you quickly see what people really think about it.
More and more companies are purposefully holding back content that was already created before their games are released, only to sell it off for a quick buck, and quite frankly, I think it's about time that gamers start showing that they will not support it by leaving the DLC the hell alone and demanding that it be given for free, or not at all.
Things like this are already getting out of hand, but if it is supported it will become way worse. I can't wait for the day that some lame company goes as far as to release something like a "High-Definition Textures Pack".
Oh goodness, I sure as hell hope that none of them read this.re
Source: SarcasticGamer
Last Updated: March 13, 2009