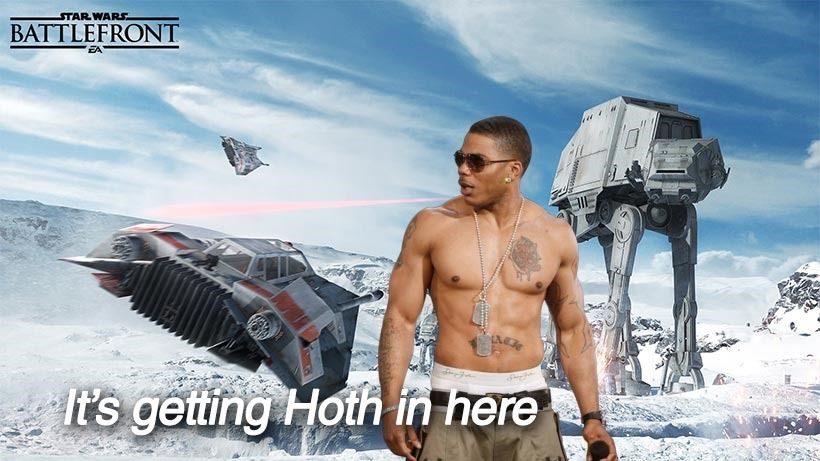 We told you earlier this week that EA and DICE would probably be dishing out free DLC for their decidedly fun, but equally hollow Star Wars: Battlefront. That news came via a video from EA Brazil, which seemed to let he information out a little prematurely.
As it happens, the information wasn't bogus, and there is indeed a wealth of free content hitting the game today. Here's what you get in the new content, which should be available today.
The Tatooine Survival map will now support the Blast, Droid Run, Drop Zone, Hero Hunt, and Heroes vs Villains multiplayer modes, and is called Raider Camp.
New Hoth-themed outfits for Luke Skywalker and Han Solo, both of which will be available to all fans when they play as these two iconic characters on the Hoth – these were unlocked by our players for completing our Heroes' Holiday community mission last month.
Create Private Matches
Daily Challenges and Community Events. These are designed to rally the Community around certain goals and objectives, giving players the chance to earn credits and unlocks even faster. We'll have more news regarding Community Events and Daily Challenges in the days ahead.
Overall balancing tweaks to both weapons and multiplayer modes.
On top of that, there's even more free DLC coming next month – including a new Survival mission on Hoth, and a new Hoth multiplayer map that'll support the game's more expansive modes; Walker Assault, Supremacy, Fighter Squadron and Turning Point.
There'll also be more free DLC In March. Not everything's free though – and there's a great big roadmap of planned content coming for season pass holders. Here's what big fans can expect throughout the year:
Star Wars Battlefront Outer Rim (March 2016) – Fight among the factories of Sullust and battle within Jabba the Hutt's palace on Tatooine
Star Wars Battlefront Bespin (Summer 2016) – It's hunt or be hunted in this experience set in the Cloud City of Bespin
Star Wars Battlefront Death Star (Autumn 2016) – That's no moon.
Star Wars Battlefront Expansion Pack 4 – Title TBA (Early 2017) – More details to be shared on the expansion pack to be revealed in the coming months.
Each of those will be available separately as well.
Last Updated: January 27, 2016