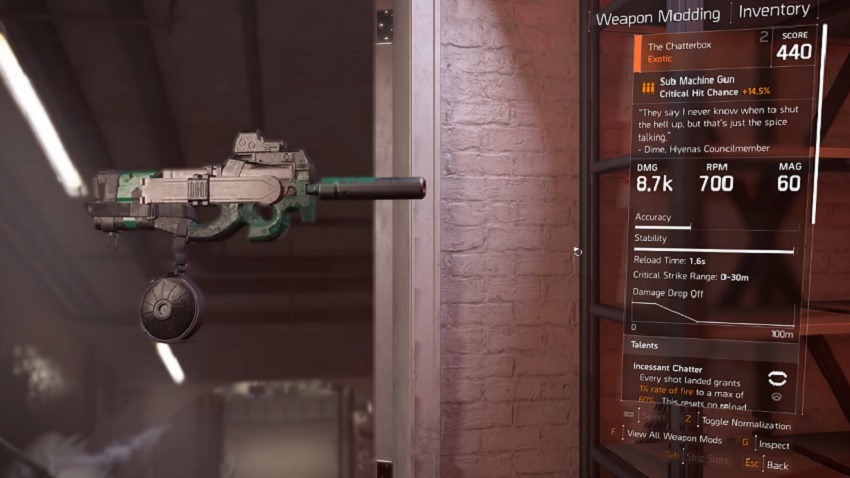 I'm a big fan of SMGs in The Division 2. They're nippy, able to offer quick reloads and more than capable of taking down a single enemy before you've spent every round in the magazine. Favouring an aggressive playstyle, they're perfect for the type of player who enjoys closing a gap and getting up close and personal with their prey. One of the more agile SMGs that you can find in The Division 2?
Easily the Exotic Chatterbox, which has a staggering 60 bullet magazine and a 700 RPM stat that will absolutely shred anything in front of you. Plus, it has the following killer stats:
Incessant Chatter – Every shot landed grants a stacked buff of an extra 1% rate, maxing out at 60%
Box Magazine – Every kill with Chatterbox will refill 20% of its magazine and grant a buff for 10s. When the buff is active, every shot landed will increase magazine capacity by 1 to a maximum of 60. Killing a target will consume the buff to fully refill the increased magazine size
Blabbermouth – When holstered, reloading your active weapon within 5s after a kill will grant it a 20% rate of fire for 10 seconds
How to get the Chatterbox Exotic SMG
You're going to need a lot of patience for farming, as all three parts for the Chatterbox happen to random drops from Hyena crates
Remember, you can find Hyena keys underground, in cabinets on the walls
You'll have to constantly loot Hyena crates, with two of them present in the Grand Washington Hotel mission
Crate one is in a small bathroom after clearing the lobby
Crate two is on the right side of the rooftop when you first enter it
Keep grinding and eventually you'll find the Loaded Canister part
For the next part, Creative Mag, you'll need to loot Hyena crates inside of Federal Triangle
Your best option here is to replay the Jefferson Trade Center mission and check the loading dock at the end of the garage
For the Modified Mods part, you're off to Judiciary Square
Your best option for finding crates is the District Union Arena stronghold
For the Chatterbox blueprint, go to Downtown West and play the Bank Headquarters mission on Challenging difficulty.
You must have all three components, to have the chest spawn that contains the blueprint
With that all done, head on down to your crafting bench and construct the Chatterbox! You've now got one of the best Exotics in all of The Division 2.
Last Updated: March 22, 2019