Do you want to stab someone with a replica of the Phurba Dagger Artifact?
Firstly, if you do, please seek help.
Secondly, you are going to either be excited or sad to hear that this edition is not one that can be purchased, your mere money is not good enough, the only way to get your hands on it is to win it as a prize (Yeah, tell that to Ebay a week later…).
Details and image after the jump.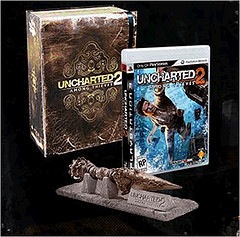 The Fortune Hunter edition will have a collectable art book and case and both will be signed by the lovely folks from Naughty Dog. Downloads will also be made available to those who have it but more importantly, it comes with the knife as well as a stand.
There are going to be a couple of ways to win it but at the moment we are not sure if we will have any locally just yet but we will be sure to post up details as soon as we can.
Source: US Playstation Blog via VG247
Last Updated: September 7, 2009