When I was first presented with the trailer to Aeon of Sands: The Trail, my immediate thought was that it was a throwback to the earliest days of gaming. A time when our minds were blown away by the likes of Myst and Metal Gear 2, when the pixel count was low and the games had not yet reached a point where they could be resold as retro novelties (Ahem PlayStation ahem). Because of this, I held apprehensions that Aeon of Sands: The Trail was trying to ride the wave of contemporary, lucrative nostalgia.
But this is unfair.
A game need not boast the finest graphics or the most revolutionary method to play it to be good. Old methods of gameplay and storytelling are as valid today as they were twenty years ago. What it makes you feel, how much you can enjoy it and by what measures it stands up to when examined by the concepts of art, entertainment and an immersive experience, is what counts.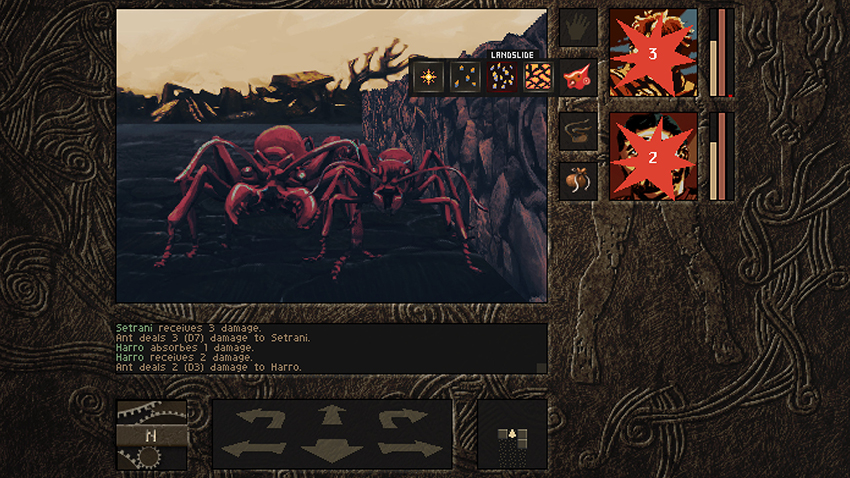 Aeon of Sands: The Trail is a 2D dungeon crawler developed by Two Bit Kids. It follows Setrani, a city clerk and resident of the thriving community out in the desert wasteland known as Pantella, built upon and protected by the great Kinami tree and the glass dome that covers it. Setrani is given a mission: Travel out into the wilderness to find a diplomatic convoy that has gone missing. The resulting adventure is one that will take Setrani, and the folks that come to join him on his journey, to the deepest of catacombs and the deadliest of environments. To solve puzzles and unlock mythical secrets, to battle monsters and fellow humans using a diverse collection of weapons and magic skills, is the flavour of Aeons of Sands.
Something essential to remember when playing Aeons of Sands, is to have patience. While I would not consider Aeon of Sands to be for the more casual gamer, the mechanics and game progression only allow speed running to a certain extent. Aeons of Sands shares traits and characteristics to that of a traditional role-playing campaign. With a few tweaks, the entire story could in fact be played out in Dungeons & Dragons. Players have to consolidate their inventories in terms of supplies, weapons, and the magic they have acquired. It is a system not unlike the polished products we have come to associate with this kind of gameplay but wrapped up in a much more linear progression and narrative outcome. In between the various landmarks that you visit and do battle within, you take a moment to check your stats, making sure that you are at your best to face the next opponent.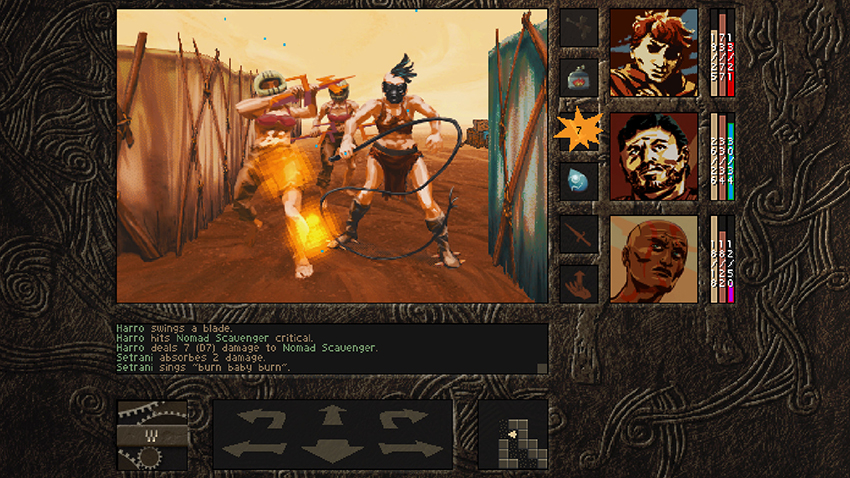 Aeon of Sands shares a great deal of similarity with Almost Human's Legend of Grimrock. The way in which you approach your hostile NPCs and team character buildup results in a combat situation that, despite being a guaranteed victory, must be approached carefully and with precision. Unlike Grimrock however, Aeon of Sands does not boast high levels of customisation, which is understandable given the graphical layout and capability. While there may be choice words over how this game might be capitalising on your happy memories of the gaming past, it is still an honest humble platform that uses minimal resources to tell its story and deliver a simple gaming experience.
There are a few drawbacks to Aeons of Sands though, with both its aesthetics and gameplay. While the overall narrative benefits from good and sometimes hilarious writing, it is dulled by certain tropes of the genre. The illustrations and the world-building are unique and interesting, but there is not much that innovative or that pushes the boundaries of this kind of storytelling. That does not always have to be the case, but a dungeon crawler such as this has to bring something new to the table to elevate it above and beyond it being a simple throwback.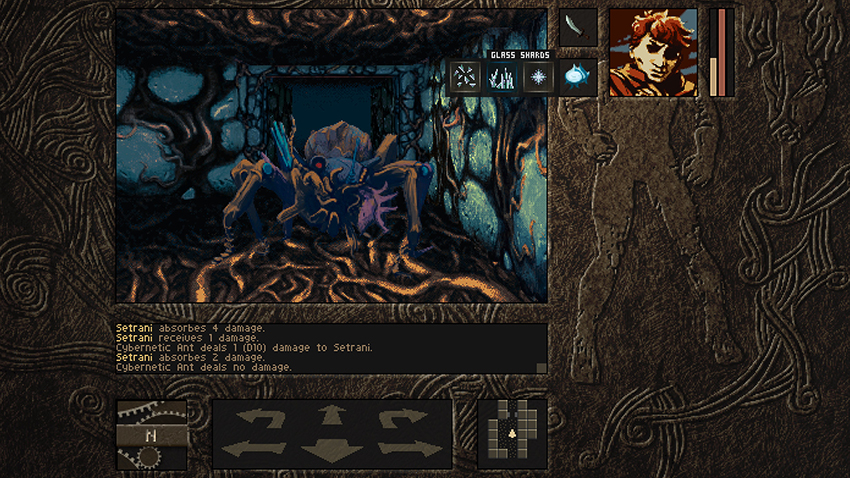 There are some mechanical problems too, namely mapping and general navigation. Enemies do not appear on your mini-map which, being a 2D game, can greatly impact your spatial awareness in combat. The 2D nature also means that you need to know how to move quickly around the map from the instant you start playing. If you want to survive, you need to know which direction you are facing at any given moment. This is important as agility is a significant component in your fight for survival. Your shield can only help you so much. And when I say that this is not a game for casuals, I mean it. Even the tutorial was a mission to get past!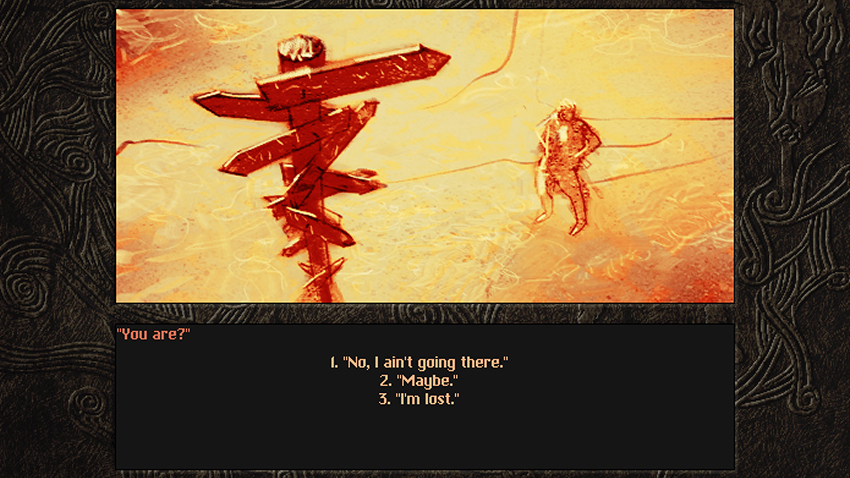 Aeon of Sands: The Trail boasts a gaming challenge that is a tried, tested and beloved formula. Complimented by pretty visuals and a wise-cracking protagonist that you'll want to see either triumph or get eaten by a mutant centipede, this is game that takes old-style mechanics and uses to deliver an old-school experience. I suspect that the Dungeon Masters of this world will love it, along with those who want to relive the good 'ol days without paying a hefty price for it.
Last Updated: December 3, 2018
Aeon of Sands: The Trail

Though littered with some technical inadequacies and narrative obstacles, Aeon of Sands: The Trail is a challenging dungeon crawler with a retro edge and an unexplainable charm. The past dusted off, given a little update, and propped back up on the shelf.

Aeon of Sands: The Trail was reviewed on PC