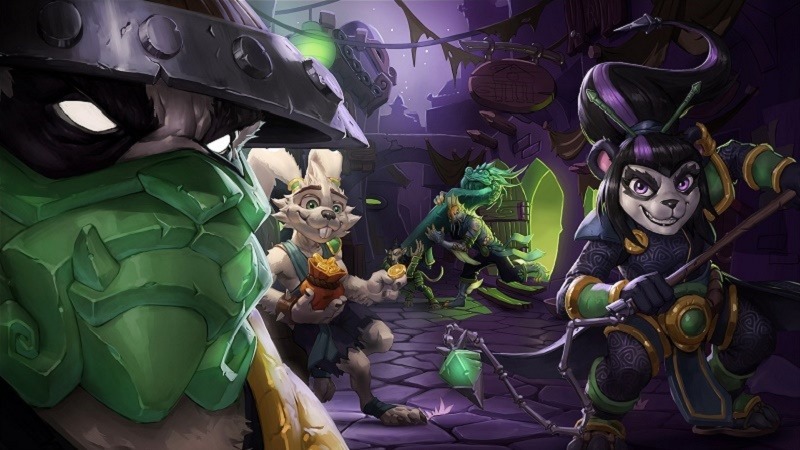 At BlizzCon earlier this month, Blizzard unveiled a brand new expansion for Hearthstone – the Mean Streets of Gatgetzan. At the time, they said the additional content for their ever addictive strategy title would be out "sometime in December".
Well, they're very eager to push these new 132 cards onto us it seems, because during a stream last night, it was announced that the Mean Streets of Gatgetzan would launch at the very beginning of the month, on the first. I don't know if you've taken the time to consult your calendar lately, but that's this Thursday!
So, make sure you finish as many quests as you possibly can (or get that credit card ready), because 132 crazy new cards – all part of three feuding crime families – are on their way:
The Grimy Goons (Hunter, Warrior, Paladin): The Grimy Goons sure picked a flattering name for themselves. They're your gangsters and weapon smugglers, eager to make their coin by equipping Gadgetzan with all sorts of untested and illegal weaponry. They're easy to pick out of a crowd; you can usually smell 'em before you see 'em, but watch out for ill-fitting brown vests and garish orange ties. What they don't have in brains, they make up with brawn.
The Jade Lotus (Shaman, Druid, Rogue): Members of the Jade Lotus family excel in the ancient arts of stealth, assassination, and turning murlocs into finjas. Yeah, I said finjas. Don't give me that look. I didn't come up with that name. Rumor has it they're meddling with some sort of ancestral juju and hitting the local art and relic exhibits—I don't know how true that is, but I'll tell you one thing: the statues outside their business are really creepy.
The Kabal (Mage, Warlock, Priest): Need some mana quick? The Kabal got you covered. These crazy chemists control the illicit mana trade in Gadgetzan, and there's never a shortage of magic-users looking for a little extra boost to their latest potent potable or kooky concoction. Just a warning: never drink what they offer you. You may up with a fuzzy coat of wool, or at the very least, a killer headache. Emphasis on the killer.
I have 1400 gold saved myself, meaning I can look forward to opening up 14 whole packs of Mean Streets of Gatgetzan cards. Will I get any legendaries? I doubt it! If I do though, I really hope I get the likes of Madam Goya (so I can rage at my poor RNG luck), or the ridiculously strong White Eyes (because Shaman really something like that you know). At the very least, I have 2200 dust in the bank, so I can make a legendary and other cards of my choosing. I think I may wait a couple of weeks though to see what really stands out.
What about you? Are you excited for the Mean Streets of Gadgetzan? What cards are you looking forward to shuffling into your deck?
Last Updated: November 29, 2016