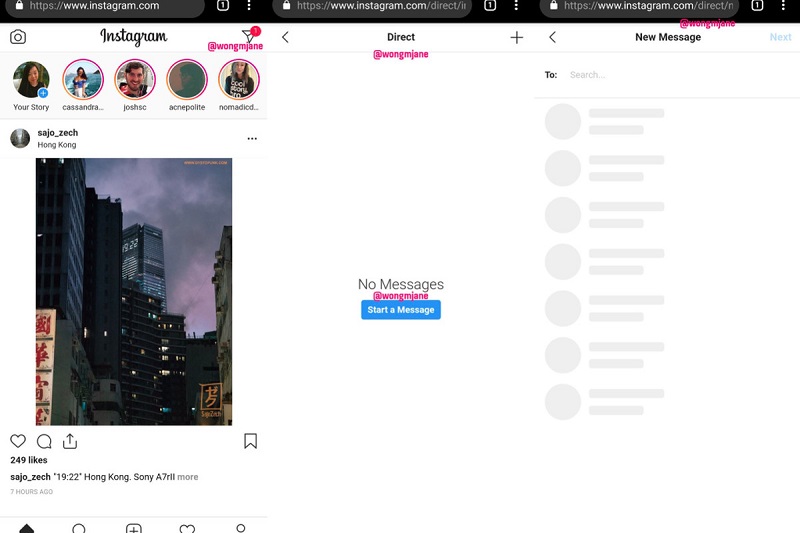 Instagram may be the fastest growing social media platform at the moment, but it is surprisingly light on functionality and features for a site that is shaping many people's communication and interaction on the web. Perhaps one of the most glaring omissions of the platform is the absence of direct messaging capabilities. Yes, it's possible to download an app that allows you to DM your Instagram contacts, but natively from the web, there is no way of doing this and all it allows you to do is browse your feed.
With Mark Zuckerberg though promising that Facebook, Messenger, WhatsApp and Instagram will be consolidating closer together, it should come as no surprise that the company is looking to bring Direct Messaging directly into the Instagram site and possibly integrating this later into the wider ecosystem.
That first part though is at least underway as app researcher Jane Manchun Wong, revealed in a tweet showing that the new messaging integrations are currently under test by the company. It might not offer much to existing Instagram users who would like have the app anyway if they wanted to DM their Instagram followers, but it's the bigger picture of greater integration that this can start to open up.
These tests are not public yet and only being conducted by a internal staff and a select target audience for now, but should find its way to public domain in the near future.
This new feature is unlikely to get new users to Instagram, but then again, it's not exactly as if the app is struggling for users at the moment as more young people continue to flock to it to share selfies and other photos of their daily life to those around them.
Last Updated: February 13, 2019