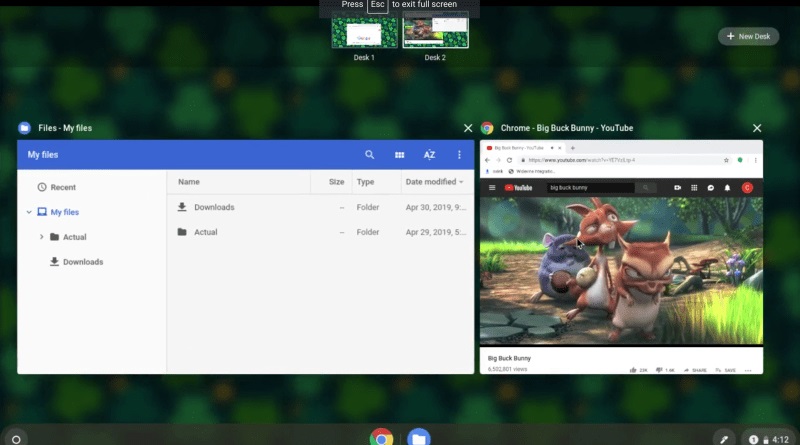 There is a new version of Chrome OS on its way. Along with the usual minor enhancements and bug fixes – though the big focus of this new update, as reported by Android Police, will be the addition of virtual desktops, something which has been sorely lacking in the operating system. Now, with this new update, users will be able to switch between up to four different desktops each with their own unique layouts.
In a feature that is not too different from Apple's Mission Control the update will allow users to swipe up to view all windows in the overview mode where there will be a new button in the upper right corner labelled "New Desk," which will create a new space for users to configure. Users can then switch between the different desktops by swiping with all four fingers.
Surprisingly, Google doesn't mention this feature in its release blog, instead focusing on some of the more minor updates that come along with this new update. This includes "automatic clicks," an accessibility feature that allows you to trigger a mouse click by hovering the pointer over a specific object. It's also adding better media controls — the new controls should do a better job of managing sound inside tabs and you can also find an overview of all tabs making noise in the system menu. Finally, the company has improved Google account management for Chrome OS, too, which you can read about more in the release notes.
It can be hard to keep up with all the different OS updates a Google does tend to release them quite frequently (this is now update 77) ,but this new release does seem to introduce one of the bigger features they have released in a long time that should see their operating system as a more suitable replacement to the feature-rich Windows and Apple offerings. ChromeOS still has a long way to go before it can match those two for pure functionality, but if they keep updating and adding new features as fast as they have even, they can get there soon.
Last Updated: August 15, 2019