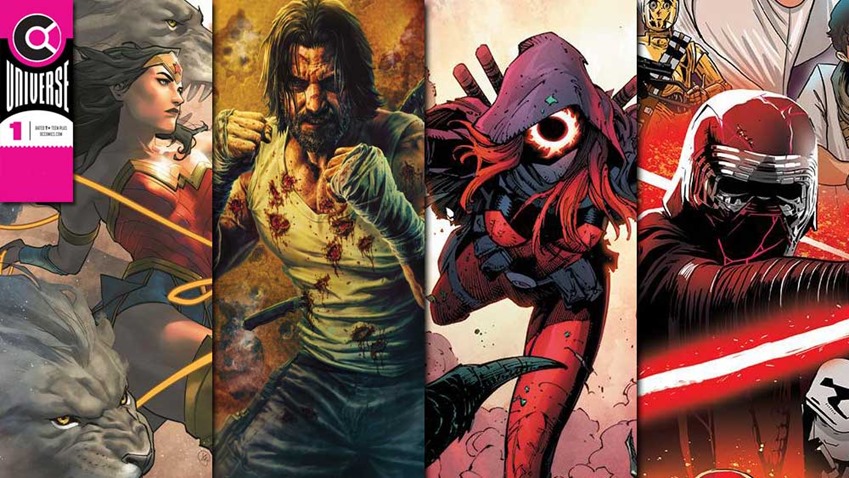 In space, no once can hear you scream. But they certainly can see your face contorting in fear as one of the greatest nightmares of the cosmos prepares to turn your face into an unwilling breeding tube for an organism that wants hug your face! With the Alien and Predator franchises now belonging to Disney, Marvel Comics is getting ready to put its own spin on intellectual property that was exclusive to Dark Horse Comics for many years.
On March 28, writer Phillip Kennedy Johnson and artist Salvador Larocca kick a new era of space terror off with Alien, which is set to be a return to the cosmic horror that made the original film so memorable more than four decades ago. "The theme boils down to a man at the end of his life deciding what his legacy will be," Johnson said to Newsarama of his plans for the series.
Marvel's Alien comic series is the story of Gabriel Cruz, a Weyland-Yutani security executive who gave up everything for his long, violent, and morally-questionable career, and is eventually discarded by the company anyway. But when something goes horribly wrong at his old duty station, he goes on one more mission to save his estranged son, and we learn about the secrets he's been keeping all these years, and his relationship with Weyland-Yutani's most valuable and most terrifying asset.

Regarding what other Alien stories inspired ours: the claustrophobic feeling of unseen, unknowable terror that defined the Ridley Scott film was something I had to have in this book, but the James Cameron film casts such a long shadow, I knew we needed some military combat in there, too. So, since this is the first arc of this new series and will set the tone for everything to come, I did my best to capture the best of both.
Spooky! Here's a quick preview of some of the interior pages:
Naturally, this series will have a ton of covers when it launches, but I'll save those for later in the month. Or you can go check them out for yourself on the Marvel previews page. Whatever, I'm not your mom, ignore that painful feeling in your chest.
Best comic book covers of the week credits
James Bond: Agent Of SPECTRE #1 by Steve Epting
America Chavez: Made In The U.S.A. #1 by Jung-Geun Yoon
Avengers #43 by Jen Bartel
Daredevil #26 by Marco Checchetto
Demon Days: X-Men #1 by Peach Momoko
The Amazing Spider-Man #58 by Mark Bagley
BRZRKR # by Lee Bermejo
Buffy The Vampire Slayer #23 by Mona Finden
Mighty Morphin' Power Rangers / Teenage Mutant Ninja Turtles by Dan Mora
Nocterra #1 by Greg Capullo
Unearth #10 by Baldemar Rivas
Batman #106 by Jorge Jimenez
Crime Syndicate #1 by Jim Cheung
Infinite Frontier #0 by John Timms
Sensational Wonder Woman #1 by Yasmine Putri
Swamp Thing #1 by Mike Perkins
Star Wars: The Rise Of Skywalker by Cryssy Cheung
The Comic Book History Of Animation #4 by Ryan Dunlavey
The Transformers '84: Secrets & Lies by Guido Guidi
Jonna And The Unpossible Monsters #1 by Tonci Zonjic
Dead Dog's Bite #1 by Ian Betrtam
Fear Case #2 by Laurence Campbell
Giga #3 by John Le
The Plot #8 by Chris Shehan
Undone By Blood: The Other Side Of Eden #1 by Sami Kivela
King Tank Girl #5 by Brett Parson
Space Riders: Vortex Of Darkness #3 by Alexis Ziritt
Last Updated: March 1, 2021