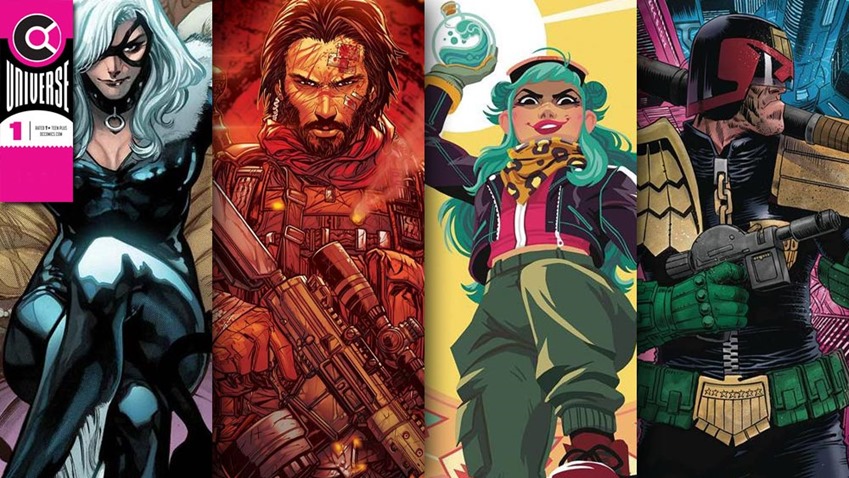 It's a tale as old as time: Arachnid-themed superhero gets transported to a faraway alien planet where he must do battle against a legion of supervillains, his suit gets ripped to pieces and he accidentally replaces it with a parasitic symbiote lifeform that wants to permanently bond with him. I mean we've all been there.
In the comic books, Spider-Man's relationship with the Symbiote suit ended when he exposed it to the most metal music of all: Giant freakin' church bells slamming him to pieces with sonic wave attacks. The Symbiote would eventually slither off and bond with Eddie Brock to form Venom, but what if it hadn't? That's a question which writer Chip Zdarsky plans to answer in Spider-Man: Spider's Shadow with artists Pasqual Ferry and Matt Hollingsworth.
"I'd been talking to Marvel for a while about doing What If? style projects and my big sticking point was that I wanted them to have several issues, not just the classic one-shots," Zdarksy said to Newsarama.
Being able to dig in on a story instead of having it be half exposition-dump, y'know?

So, once they agreed to that, I realized that this would be the perfect story to tell out of the gate. It was a previous What If? concept that I could really dig into and flesh out, and it hit a tonal place that Spidey comics don't normally go into – something darker, tinged with horror. Having recently worked on Silver Coin for Image and Stillwater for Skybound, I've been finding myself more drawn to those kinds of stories.
The end result is a spookier take on Spider-Man, but one that Zdarsky says that "no matter the situation, no matter the timeline, he's forever Spider-Man". It'll be out later this year. Now, on to the comic book covers of the week!
Comic book covers of the week credits
Black Cat #4 by Pepe Larraz
Captain America #28 by Alex Ross
Silk #1 by Jen Bartel
Symbiote Spider-Man: King In Black #5 by Dave Rapoza
X-Men Legends #2 by John Tyler Christopher
Vampirella Vs. Purgatori #1 by Joseph Michael Linsner
Decorum #7 by Mike Huddleston
Redneck #30 by Lisandro Estherren and Dee Cunniffe
Spawn #316 by Todd McFarlane and Greg Capullo
The Department Of Truth #7 by Martin Simmonds
BRZRKR #1 by Jonboy Meyers
Firefly #27 by Ethan Young
Power Rangers Unlimited: Heir To Darkness #1 by Dan Mora, Cover B by Vincenzo Riccardi
Black Of Heart #5 by David Hollenbach
Cult Of Dracula #1 by Gyula Nemeth
Teenage Mutant Ninja Turtles: The Last Ronin #2 by Issac Escorza, Esau Escorza, and Kevin Eastman
The Transformers #28 by Casey Coller
Un/Sacred #5 by Mirka Andolfo
Hatchet: Vengeance #3 by Ken Haeser and Buz Hasson
Future State: Superman Vs. Imperious Lex #3 by David Nakayama
John Constantine: Hellblazer Vol. 2: The Best Version Of You by John Paul Leon
Justice League: Odyssey Vol. 4: Last Stand by Skan
Strange Adventures #9 by Mitch Gerads
The Batman's Grave Complete Collection by Bryan Hitch
The Other History Of The DC Universe #3 by Giuseppe Camuncoli and Marco Mastrazzo Cover
Miranda In The Maelstrom Vol. 1 by Koi Carreon and Dailen Ogden
Dragon Age: Dark Fortress #1 by Sachin Teng
The Art Of The Mass Effect Trilogy by BioWare
The Witcher: Fading Memories #4 by Jeremy Wilson
Giga #3 by Adam Gorham
Witchblood #1 by Yoshi Yoshitani
2000 AD Feb. 2021 Prog Pack by Pat Mills
Sam And His Talking Gun #2 by Lee Ferguson
Kingdom Kong by Zed
Last Updated: March 23, 2021