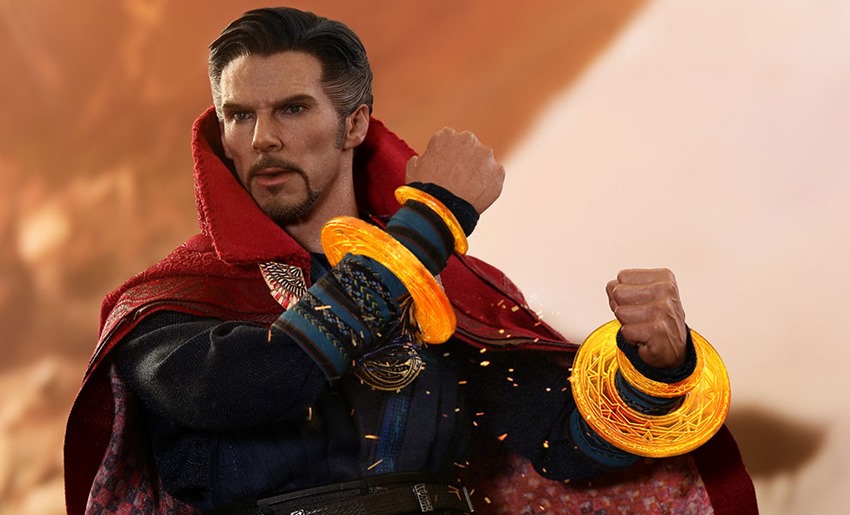 You've got a cosmic menace on the warpath, headed straight to Earth and more than ready to slaughter his way through an army of Wakanda's finest soldiers so that he can lay his golden gauntlet on the final Infinity MacGuffin. All hope is lost, the entire cosmos is about to get a 50% off sale on life and it looks like even the most advanced technology in the cosmos is no match for the mad Titan known as Thanos.
Man, some magic would be helpful right about now. While the effectiveness of the spells conjured up by Earth's sorcerer supreme may be up for debate, there's no denying that the premier practitioner of the mystic arts was a force to be reckoned with in Infinity War. Armed with the Infinity Stone of time and somehow not able to use it to travel backwards in the flow of continuity so that he could kick baby Thanos off a cliff, Doctor Strange needed not only his supernatural powers to fight an impossible war but also wisdom for the films ahead.
I mean, there has to be a reason for some of his actions, right? Hopefully the sixth-scale replica of Benihana Cauliflower Bellstick Tinklebeaver Blubberhock Slumbermurder Benedict Cumberbatch doesn't make the same mistakes that he made. Like not jettisoning Star Lord into space the second he arrived:
WHAT'S IN THE BOX?
The Doctor Strange Sixth Scale Figure specially features:
A newly painted head sculpt with an authentic and detailed likeness of Benedict Cumberbatch as Doctor Stephen Strange in Avengers: Infinity War
Movie-accurate facial expression with detailed wrinkles and skin texture
Black colored short hair sculpture
Newly developed body with over 30 points of articulation
Approximately 31 cm tall
Thirteen (13) pieces of interchangeable hands including:
One (1) pair of fists
One (1) pair of hands for mystic art effects
One (1) pair of clenching hands
Two (2) pair of mystic power-using hands
One (1) pair of open hands
One (1) finger pointing right hand
Each head sculpt is specially hand-painted
Costume:
One (1) delicately woven red-coloured cape (The Cloak of Levitation) adorned with intricate embroidery with special magnetic clip-on design
One (1) navy-coloured under-tunic
One (1) multi-layered blue and navy-coloured tunic
One (1) dark brown-coloured cummerbund
One (1) pair of dark blue-coloured pants
One (1) pair of black and blue-coloured boots
Accessories:
Two (2) sling rings
Two (2) amulets (The Eye of Amagotto) with an open and closed Eye, respectively
Fourteen (14) pieces of mystic art effects including:
Four (4) pieces of green-coloured mandalas of light in different sizes (wearable on forearms)
Four (4) pieces of orange-coloured mandalas of light in different sizes (wearable on forearms)
One (1) pair of orange-coloured mandalas of light
One (1) set of orange-coloured battle mystic art effect
One (1) orange-coloured square-shaped mystic art effect
One (1) orange-coloured sword-shaped mystic art effect
One (1) bundle of reddish orange-coloured ropes mystic art effect
All we need now is a sixth-scale Everett Ross figure based on Martin Freeman's likeness and I can finally use these toys to create my own version of Infinity War where Sherlock Holmes and Watson save the day. Doctor Strange will conjure up a release date of between July and September of 2019, for the mystic price of $267 or around R3400 if Dormammu doesn't attack and make the currency exchange rate suffer again.
Last Updated: May 23, 2018