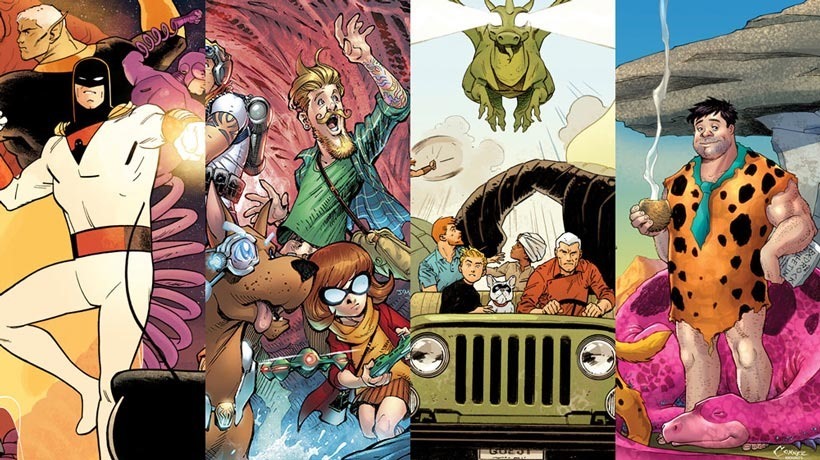 If you ever grew up with your face plastered to a TV screen, it was most likely focused on cartoons. Hanna Barbera cartoons to be exact. Long before the rise of Cartoon Network and Nicklelodeon, Hanna Barbera ruled the animated landscape with dozens of weekly shows. Scooby Doo, Johnny Quest, the Jetsons and Space Ghost just to name a few.
Times changed however, and Hanna Barbera faded into obscurity, but at least they went down fighting with some superb cartoons in the form of SWAT Kats and a new Johnny Quest series. But it looks like Hanna Barbera is making a big comeback, at leas in comic book form. DC Comics announced big plans for a new stable of comics dedicated to several familiar faces, with some big name talent on board that includes the likes of Amanda Connor, Jeff Parker and Jim Lee. Here's the full list and artwork from Entertainment Weekly:
"The Flintstones," with designs by Amanda Conner and written by Mark Russell
"Wacky Race Land" by Mark Sexton and Ken Pontac
Jeff Parker and Evan "Doc" Shaner on "Future Quest," starring the Hanna-Barbera action heroes (including Space Ghost and Jonny Quest)
"Scooby Apocalypse" from Jim Lee, Keith Giffen and Howard Porter
That's some great talent on board what looks like some fresh reboots. Minus Scooby Doo, which I've always hated with the passion of a million exploding suns (except for Velma because she's awesome), I like the idea. Future Quest appeals to me massively, as I grew up on a steady diet of The New Johnny Quest Adventures, while Wacky Race Land looks colourfully twisted.
"I think what you find right now is there's so much material on pop culture, and these characters resonate with so much of our fanbase," DC Co-publisher Dan DiDio said to Entertainment Weekly.

It was so fun to go out and look at them, but not just bring back versions that existed 40, 50 years ago and really look at it the way of saying, if these characters were created and interpreted today, how would they exist? So we handed off our materials to a number of top creators, and what came back was an exciting look that felt very true to the existence of the characters.
I'm still wondering why Scooby Doo has a power level scouter in that cover. RUH ROH RAGGY, RIT'S ROVER RINE ROUSAND! REEHEEHEEHEEE!
Last Updated: January 29, 2016