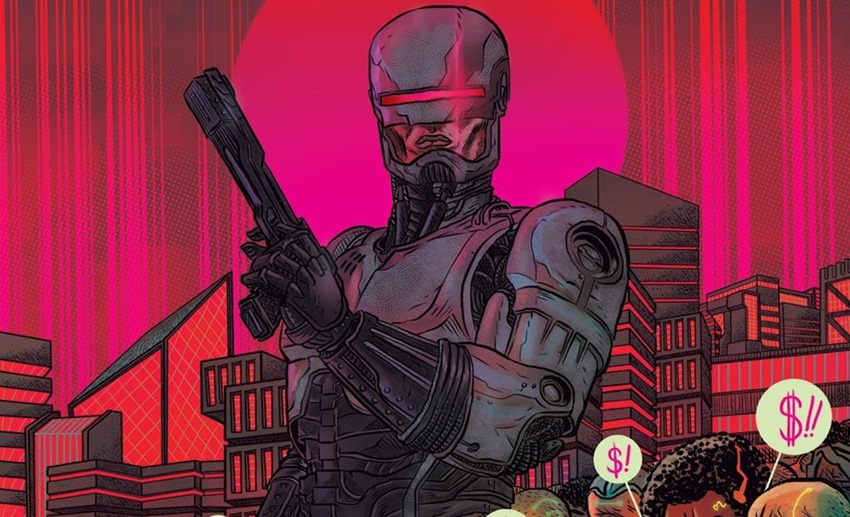 When it comes to police officers, public opinion isn't exactly in the favour of the fat blue line that is staffed by an abundance of power-hungry maniacs with itchy trigger-fingers. Are there good cops out there? Absolutely, and they are indeed a credit to the uniform when they remember that their job is to serve and protect instead of instantly murdering anyone whose skin colours happens to fall below a certain shade of brown.
It's not enough however. Crime is out of control, corruption is rampant and we're still 46 years away from the birth of Judge Dredd. What we need, is a perfect fusion of man, machine and prime directives. What we need, is Robocop! Which is exactly what we're getting, as Boom! Studios announced a new comic book series featuring the original and best incarnation of the titanium-plated lawman.
Called Robocop: Citizens Arrest, the new series takes place in a future where justice is crowd-sourced and law enforcement is now the domain of private corporations as citizens are rewarded for spying on their neighbours. Caught in the middle of this paradigm shift is Robocop himself as he finds that after 30 years of active service, the streets have indeed changed tremendously. "RoboCop remains a favourite film of mine, and was an early influence on the type of stories I sought out to read and watch, and eventually to create on my own," writer Brian Wood said in a press release.
It's an honour to write this series, to write Alex Murphy, and to show everyone how much the core themes of RoboCop – police brutality, union busting, media manipulation, privatization of law enforcement and the marginalization of poor people – are, incredibly, just as relevant now as they were in the 80's.
"Some movies transcend cinema," artist Jorge Coelho added.
As classics they hold that enigmatic mix of timing and ideas that, somehow, make them endure the test of time – for me, RoboCop is one of them. I can still see myself as that big eyed kid devouring everything about the concept decades before I knew what dystopia is, it made me a fan of science fiction and social commentary. Strong, unapologetic characters living in a world close enough to ours, fantastic enough to capture our imagination and keep its spell alive.

Citizens Arrest will add new characters and a vision in comic form that will treat readers and lifetime fans with the love and respect this cinema classic deserves.
The new series arrives in April, with Nimit "Fables" Malavia, David "Black Hammer" Rubin and Jim "Youngblood" Towe providing covers.
Last Updated: January 19, 2018