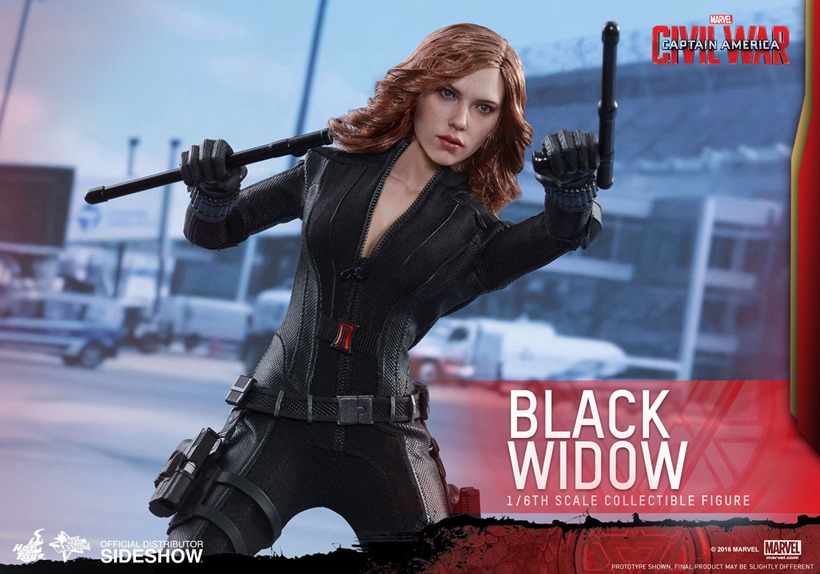 It feels like it was just yesterday that I was talking about the Black Widow. In fact, it actually was yesterday so I'm technically correct. The best kind of correct. John Lennon and Futurama references aside, I'm a big fan of Scarlett Johansson's Black Widow character in the movies. She's the best of the Jason Bourne and James Bond franchises, rolled up into ass-kicking machine. Dammit, why doesn't she have her own movie yet?
And none of that rom-com crap either? If the Black Widow can spend a Wednesday fighting off mercenaries, alien invaders and killer robots powered by the homicidal AI of a Windows ME operating system, then we deserve to see more of that. Until Hollywood relents and listens to me however, I'll have to make do with using a sixth-scale replica of the master-spy to film my dream movie.
WHAT'S IN THE BOX?
The Black Widow Sixth Scale Collectible Figure specially features:
A newly developed head sculpt with authentic and detailed likeness of Scarlett Johansson as Black Widow in Captain America: Civil War
Movie-accurate facial expression and make-up
Long curly brownish-red real fabric hair implantation
Body with over 28 points of articulation
Approximately 28 cm tall
Eight (8) pieces of interchangeable gloved hands including:
– One (1) pair of fists
– One (1) pair of relaxed hands
– One (1) pair of hands for holding pistols
– One (1) pair of hands for holding baton/nightsticks
Each head sculpt is specially hand-painted
Costume:
Completely new tailored one-piece black colored jumpsuit with detail texture, belt, and holsters on thighs
One (1) pair of black colored platform boots
Weapons:
Two (2) pistols
Two (2) extended nightsticks
Two (2) retracted nightsticks
Two (2) batons
Accessories:
One (1) pair of Widow's Bite bracelets
Captain America: Civil War Team Iron Man themed figure stand with character's nameplate and the movie logo
Bonus Accessory:
One (1) miniature Ant-Man in crouching position (Approximately 3cm tall)
Sideshow Collectibles says that the sixth-scale Scarlett Johansson will set you back $229.99 when she arrives in September. Which just might be the creepiest sentence that I've ever typed.
Last Updated: April 26, 2016