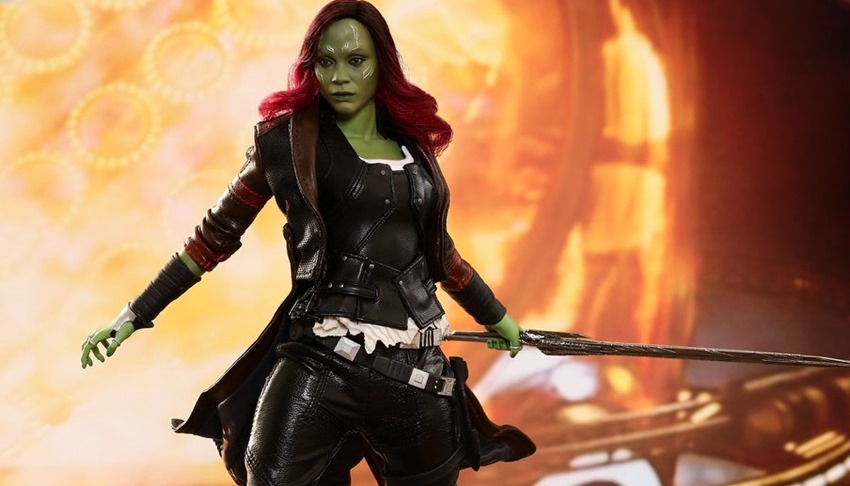 If I had to list my favourite films in the Marvel Cinematic Universe, Guardians of the Galaxy would easily crack the top five. There's just something magical about that flick: The right cast, the right director and the right attitude. My second-favourite character in that band of misfits? Easily Zoe Saldana's Gamora, the deadliest woman in the galaxy. Yeah sorry, I dig Gamora but Mantis is by far my favourite.
In a film anchored by Star Lord's taste in music and Groot's…Grootiness, Gamora is a fierce blade with a surprising warmth to her character. Moreso even in Guardians of the Galaxy Vol. 2, where she shines yet again. Her official impossibly realistic action figure from Hot Toys doesn't look too bad either. Check it out below:
WHAT'S IN THE BOX?
The Gamora Sixth Scale Figure specially features:
A newly painted head sculpt with an authentic and detailed likeness of Zoe Saldana as Gamora in Guardians of the Galaxy Vol. 2
Green-coloured face with movie-accurate facial expression and make-up
Long curly black and purplish-red real fabric hair implantation
Specialized body with over 28 points of articulation
Approximately 28 cm tall
Eight (8) pieces of interchangeable hands including:
– One (1) pair of fists
– One (1) pair of relaxed hands
– One (1) pair of hands for the sword
– One (1) right hand for holding the sword
– One (1) right hand for holding the gun
Each head sculpt is specially hand-painted
Costume:
One (1) reddish brown and black-coloured leather-like long coat
One (1) black-coloured leather-like vest showing the edge of the white tank top
One (1) long sleeved burgundy shirt
One (1) pair of black-coloured leather-like pants with patterns
One (1) pair of black boots
One (1) black and silver-coloured belt with holster
Weapons:
One (1) blaster
One (1) fully extended sword
One (1) folded up sword
Accessories:
One (1) Aero Rigs jetpack with armoured chest plates
One (1) miniature Baby Groot holding a bomb
Specially designed figure stand with character nameplate and movie logo
My only complaint with these figures lately? I'm starting to wish that Hot Toys would give the realistic faces some more emotion, instead of relying on neutral expressions with each new release. For me, going the safe route robs these little fellas of some of the life that they're more than capable of projecting from a toy shelf. Anyway, Gamora should arrive next year between July and September.
Better start saving those space credits though, because Gamora will set you back around $251/R3200. That's like, half an Infinity Stone.
Last Updated: May 3, 2018