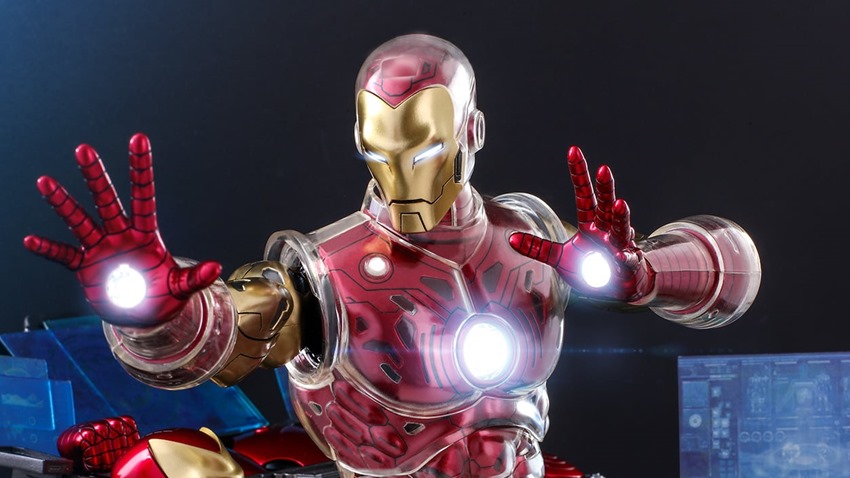 Several decades, the endless match of technology, and a whole lot of artistic license has resulted in Iron Man having one of the most flexible appearances in comic books. But if you went straight back to the source, the Iron Man of the 1960s looked a whole lot different than the sleek and angular armoured Avenger that we know of today.
Heck, the first Iron Man suit was cobbled together from spare parts, but once he was back in the good ol' US of A, Tony Stark put together something a lot more cutting edge in design. Plus it had abs. Abs! If you're going to spend time doing crunches, you might as well show them off in armoured form! That original design is next on the Hot Toys block, as the manufacturer of roughly three trillion Iron Man figures is going back to basics.
Sort of. While the Hot Toys interpretation of an OG Iron Man suit has all sculpted muscles and ostentatious colour schemes that you could ask for, it has a few modern touches thrown in for good measure. There'll be two versions of this specific figure as well. The standard version comes with several interchangeable face-plates based on other updated Iron Man armours, while the deluxe version comes with a cool briefcase and a diorama figure base with LED light up function.
Both figures also feature that one guy in the Facebook comments section who won't stop leaving remarks about how he wants a Zack Snyder's Justice League Cyborg figure. Check it out below!
No word yet on how much this Iron Man will set you back, but I'll update the post as soon as those hefty numbers come in.
Last Updated: April 8, 2021