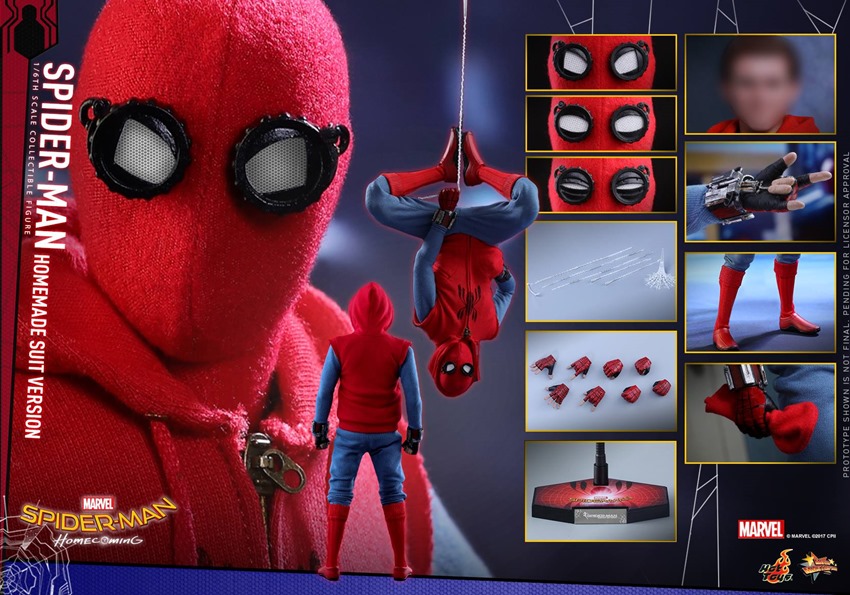 Let's say that you get superpowers one day. You happen to be idealistic, you want to save mankind from disaster every week and you're a pretty selfless fella after all. But you also realise that you're going to need to keep your identity a secret, lest Willem Dafoe crash your gran's house and kidnap your girlfriend. Oh that Willem! What a character!
Thing is, making costumes are hard. Superman had it easy, his spandex was inherited and more indestructible than fruit cake on New Year's day. Batman has the power of money, Thor looks good in whatever he's wearing and the Hulk's entire wardrobe consists of pants that look like they've barely survived Christmas lunch.
And then there's Spider-Man. If you were 15 and you had no income to rely on, getting your hands on a decent costume would be an uphill struggle to say the least. In Spider-Man: Homecoming, that's a fact that is made clear when you see Tom Holland's first suit as the spectacular vigilante. It just screams homemade:
WHAT'S IN THE BOX?
The Spider-Man (Homemade Suit Version) Sixth Scale Collectible Figure specially features:
An authentic and detailed likeness of Peter Parker/Spider-Man from Spider-Man: Homecoming
One (1) head sculpt with authentic likeness of Tom Holland as Peter Parker in the movie
One (1) masked head sculpt with three (3) sets of interchangeable eyepieces
Specialized body with over 30 points of articulation
Approximately 28.5cm tall
Eight (8) interchangeable hands in fingerless gloves, including:
– One (1) pair of fists
– One (1) pair of open palms
– One (1) pair of hands for web-shooting
– One (1) left hand for holding spider web
– One (1) right hand for holding the mask
Each head sculpt is specially hand-painted
Costume:
One (1) red zip-up hoodie vest with the Spider-Man symbol printed across the chest
One (1) light blue sweatshirt with wrist-mounted web-shooters
One (1) pair of light blue sweatpants
One (1) pair of red socks
One (1) pair of red shoes
Accessories:
One (1) Spider-Man mask (not wearable on figure)
One (1) open spider web effect accessory
Five (5) strings of spider web in different shapes and lengths, attachable to the web-shooters
One (1) specially designed dynamic figure stand with movie logo
I kinda dig it, mostly because it reminds me a lot of Ben Reilly's Scarlet Spider outfit from the Clone Saga. A costume that I think was horribly fantastic in its own special way. Sideshow Collectibles have Spidey pegged at a price tag of $219.99, for an October release. At least now I know why the last film trailer started with thieves robbing an ATM. That Hot Toys thirst is real.
Last Updated: March 27, 2017