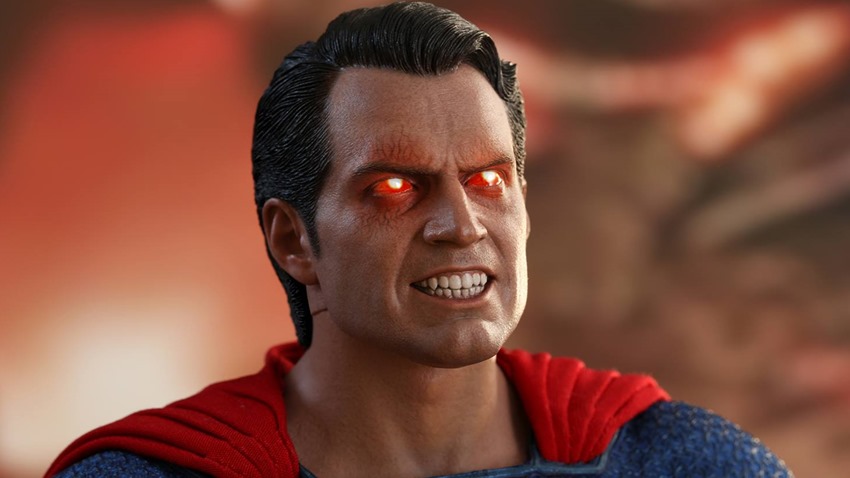 Hey kid! Man of steal (HEY THAT PUNK TOOK MY WALLET AND BEST JOKES) Darryn here. Before we get stuck into this article, spoiler warnings. Lots of them. Sure, Justice League may have been worse than the original Green Lantern's weakness to wood/Ron Jeremy, but plenty of people still want to see it. So yeah, there will be spoilers below. Feel free to scroll to the bottom and make jokes about Henry Cavill's CGI top lip if you have yet to see the film and are waiting for a Blu-Ray release.
For all the drama, for all the hooplah and the sheer dreadfulness of Justice League, the flick did at least manage to nail some plot beats terrifically. Superman may have been a deus ex machina in blue Kryptonian spandex, but that moment where he finally returned after an inconvenient case of death? Dude, I freakin' adore it.
There you have the majority of the team, having been checked and wrecked by Steppenwolf. About to land the final blow, it's a revitalised Superman who saves the day and finally gets into character with the simple sentence of "Well I believe in truth… but I'm also a big fan of justice". That's when DC eventually nailed the idea of a modern Superman, something that we'd seen hints of in Man of Steel and Batman V Superman.
A stranger from a distant world, whose primary motive was simply to do the right thing. I'm waxing lyrical here of course and I'd bet my Battoo that it's going to be a long time before we ever see Superman back in action. Or you could just make your own Man of Steel sequel, with the latest sixth scale last son of Krypton from Hot Toys:
The funny thing is, is that I make the same face the morning after I've eaten food that has been drenched in Blair's Death Sauce. Here's what a cool R3000 gets you, in terms of detail:
WHAT'S IN THE BOX?
The Superman Sixth Scale Figure specially features:
An authentic and detailed likeness of Superman in Justice League
One (1) newly developed head sculpt with LED light-up function (battery operated) recreating Superman's use of heat vision
One (1) newly painted head sculpt with authentic likeness of Henry Cavill as Superman in the movie
Movie-accurate facial features with detailed wrinkles and skin texture
Detailed hair sculpture
Approximately 31.5 cm tall
Newly developed muscular body with over 30 points of articulation
Movie-accurate body proportion
Eight (8) pieces of interchangeable hands including:
– One (1) pair of fists
– One (1) pair of relaxed hands
– One (1) pair for open hands
– One (1) pair of flying gesture hands
Each head sculpt is specially hand-painted
Costume:
One (1) newly tailored Superman suit embossed patterns with metallic coloured Superman logo across the chest
One (1) pair of red boots with embossed patterns
One (1) red iconic cape
Accessory:
Specially designed Justice League themed figure stand with Superman nameplate and the movie logo
And no, it doesn't include a super-stache. It would be awesome if it did though. The strange visitor from another planet who gets regularly confused for birds and planes, will fly off of shelves next year January.
Last Updated: January 24, 2018