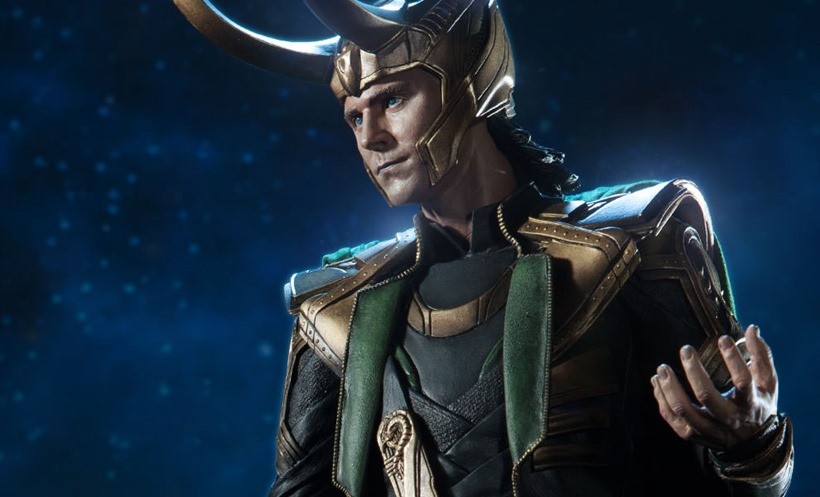 Thor movies are alright, aren't they? Well, at least the ones where he isn't moping around Asgard, because he can't be near his Janey-Waney. Nah, let's be honest here: We watched most of those first Marvel movies because Loki was in them. Lean, mean and hungry for power, this was a Loki who happened to be a charismatic bastard and more than a match for any single Avenger, including that one fella who was dressed up like a Fourth of July Cirque Do Soleil performer.
Tom Hiddleston nailed the role of the adopted son of Odin, to the point where I pretty much would have no problem with him ruling all nine realms. Seriously, King Loki! What could possibly go wrong? Just remember to kneel before him:
There are no men like him! Perfectly capturing Tom Hiddleston as Thor's devious brother, the Asgardian god looms tall with his signature curved horns, regal armor, and a magnificent green cape dramatically swept behind him.

Believing he is a king by birthright, Loki looks out across the starways for a new planet to rule. Ruthlessly clutching a Chitauri scepter in his hand, he is determined to take Earth by force, with a formidable army ready to follow.

As his cunning plan comes to fruition in Thanos' realm, he prepares to make his final move, reminding you that in the end – you will always kneel.
The Loki statue measures in at 23.25″ H (590.55mm) x 12.25″ W (311.15mm) x 12″ L (304.8mm), and weighs 5.67kg. The horny fella will set you back a princely sum of $459 if you're keen on adding a trickster to your collection.
Last Updated: November 5, 2015