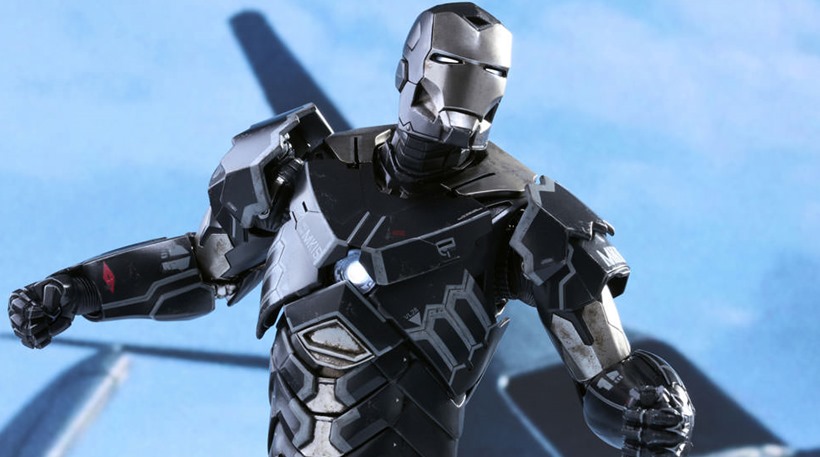 There's an Iron Man armour that's just right for knocking a few gamma-irradiated teeth loose from the mouth of a certain incredibly angry Hulk. There's an Iron Man armour that's ready for street construction. Iron Man armour for outer space. Stark technology that is designed to hold a bridge up. And on and on the list goes. But you know which armour I haven't seen too much of? Stealthy armour. And that's the whole point.
Turns out that Tony Stark does indeed possess a suit which puts the F117 Nighthawk jet to shame, an armoured prosthesis designed to sneak in and get back out without even needing to activate its cardboard box disguise protocols. It's called the Mark XV Iron Man armour. Or the Sneaky, for short. Sounds like my kind of technology.
WHAT'S IN THE BOX?
The Iron Man "Sneaky" (Mark XV) Sixth Scale Collectible Figurespecially features:
Authentic and detailed likeness of "Sneaky" (Mark XV) in Iron Man 3
Bluish-black and silver colored paint application with decals and weathering throughout the whole armor
Approximately 31 cm tall
Over 30 points of articulations
LED-lighted eyes and circular-shaped RT on chest (white light, battery operated)
LED-lighted left forearm (battery operated)
Asymmetrical forearm design
Removable chest armor to reveal interior mechanical design
Shin armor can be opened to reveal interior mechanical design
Three (3) pairs of interchangeable palms including:
One (1) pair of palms with articulated fingers and light-up repulsor (white light, battery operated)
One (1) pair of fists
One (1) pair of repulsor-firing palms (white light, battery operated)
Articulation on waist armor allowing flexible movement
Accessory:
One (1) circular figure stage with flexible pole
It's weird, but it's also…kind of cool. I name-dropped the F117 above, a jet that anyone who played Jungle Strike on the Sega Megadrive will be intimately familiar with. But looking closely at the armour, and you kind of feel like Stark bought one of those jets, gutted it and used the spare parts to make his sneaky suit of armour. I like it.
And now for the part of the article that will make Rand-wielding collectors weep: The Mark XV will set you back $264.99, or around 4363 ZAR. You won't see him coming, but the Sneaky suit will be released some time between November 2016 and January 2017.
Last Updated: January 25, 2016