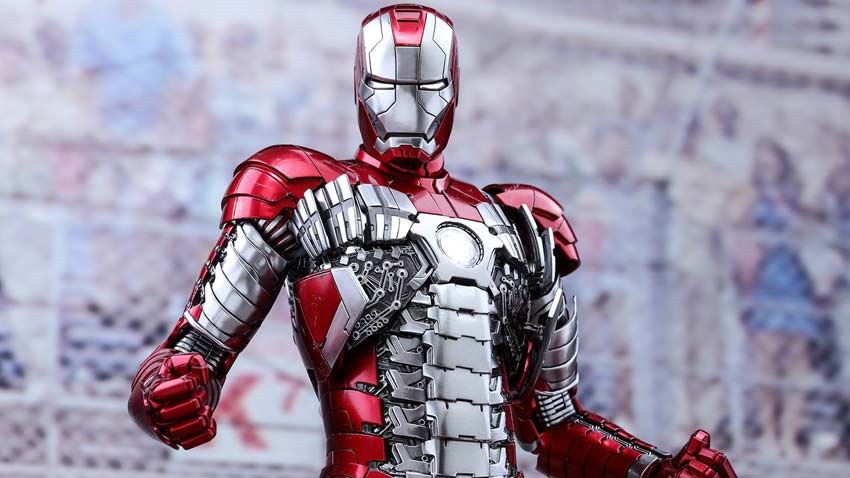 There's a certain downside to ever actually owning a suit of brand-spankin' new Iron Man armour: Where the hell are you going to store it? With my luck, having a Mark 42 in the garage would most likely result in me having to chase my cat out of it, deal with the usual ocean air rusting it up and at least one instance of ants messing with the wiring. And we all know just how well that worked out in Civil War.
But then there's that one other Iron Man armour that offered some protection with speed, agility and a wicked cool paint job. The fantastic Mark V armour of Iron Man 2. A suit that was designed to be slipped into quicker than previous armours that required an entire workshop full of assembly line robots to help apply the armour, the Mark V also just looks damn good. It's that colour scheme of red and silver that make it look so fantastic, a nod to the era when Tony Stark wore the Silver Centurion armour in the comics.
Hot Toys made a Mark V sixth-scale replica a couple of years ago actually, but they've gone back to their workshops to give that cult classic suit a rebirth. This time, it's slightly bigger, better proportioned and its made out of diecast materials. I think my heart may have just stopped beating:
There's no official pricing yet for this figure, but I'd estimate it to be around the same price as other diecast figures and retail for around $350 when it is officially announced on Sideshow Collectibles. But at least it'll be a suit of armour that you can stick into the overhead storage above you, right?
Last Updated: February 6, 2017