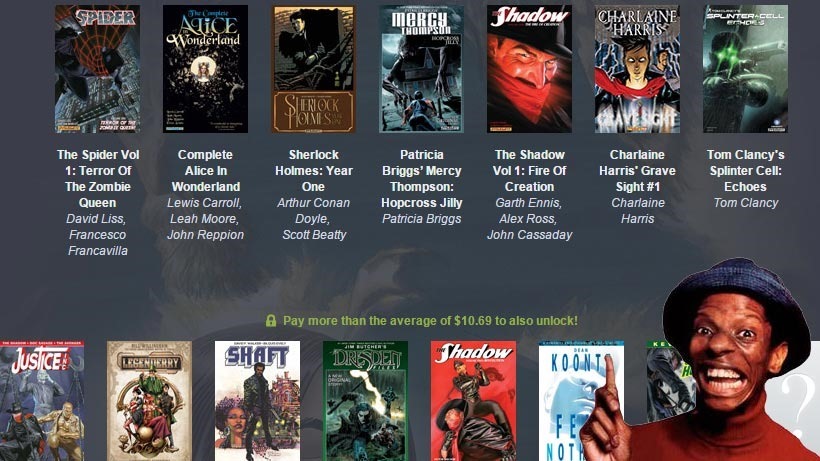 Comic books! No longer a passion that is a magnet for all manner of abuse from people who just don't get you, maaaaaaaaaaaaan.An evolving medium, the comic books of today are generally smarter and better-drawn monthly adventures, fiction that draws in top-level authors and artists to pen widescreen action on paper.
The big two in the industry these days is still Marvel and DC, but they've got a lot of competition lately from the likes of Dark Horse, Image and Dynamite. Dynamite in particular is an interesting brand of comic books. They've got a preference towards publishing licensed comics based on popular film and TV franchises. Franchises such as Shaft (SHUT YO MOUTH), Green Hornet and even Game of Thrones.
Comics like these have actually been pretty damn good. Don't believe me? Well I'd happily wager an entire dollar to be proven right. The latest Humble Comics Bundle is in action, with plenty of Dynamite entertainment up for sale. Pay what you want, and you'll get these comics:
The Spider Vol 1: Terror Of The Zombie Queen
Complete Alice In Wonderland
Sherlock Holmes: Year One
Patricia Briggs' Mercy Thompson: Hopcross
The Shadow Vol 1: Fire Of Creation
Charlaine Harris' Grave Sight #1
Tom Clancy's Splinter Cell: Echoes
Pay more than the current average of $10, and you'll get tier one and these comics:
Justice Inc. Vol 1
Legenderry: A Steampunk Adventure
Shaft: A Complicated Man
Jim Butcher's The Dresden Files: Ghoul Gobli
The Shadow Vol. 2: Revolution
Dean Koontz's Fear Nothing
Kevin Smith's Green Hornet Vol 2: Wearing O The Green
And $15 or more gets you all that, plus these comics:
Game Of Thrones #1 – 4
Django/Zorro Collection
The Last Temptation
Legends of Red Sonja Collection
Vampirella Master Series Vol 4: Visionaries
That's not a bad start at all, with more comics being promised for later. Remember, they're all digital comics, so you don;t have to worry about getting Cheetos dust all over your near-mint pages. Something which often happens to me, and requires me to deftly lick the pages clean. Deftly.
Last Updated: February 11, 2016