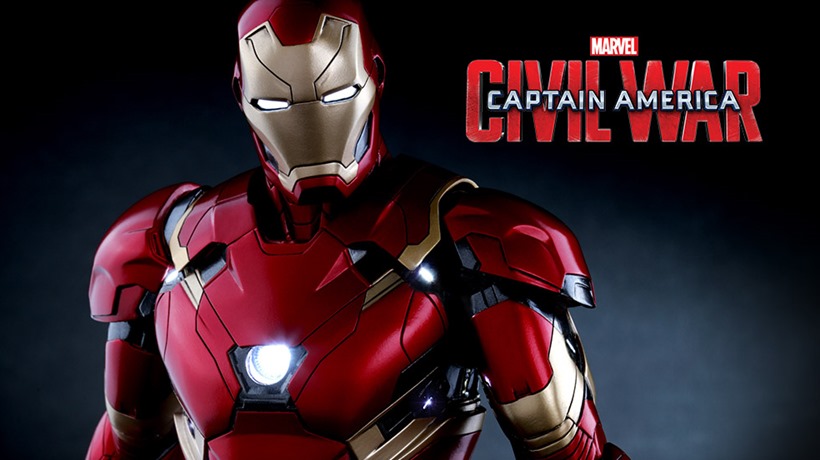 Think back to 2008. That's the year that the world was introduced to Iron Man, a character who had never really enjoyed the level of popularity reserved for heroes such as Spider-Man, Batman or Superman. Eight years later, and Tony Stark is essentially the poster boy for the entire Marvel Universe. Robert Downey Jr's sarcastic robotics genius took the world by storm, thanks to a combination of wit, charm and kickass exoskeletons that could easily level a city.
And to me, it's consistently amazing to see how those suits have evolved in the cinematic universe. You've got the clunky Mark 1, cobbled together from spare parts, missiles and desperation. Then there's the state of the art Mark III which set a benchmark for the future armours. The bulkier Mark VII which was used to put Loki in his place. The prodigal son known as the Mark 42. And finally, this year we see the Mark 46, the bleeding edge of Stark technology.
I want one.
WHAT'S IN THE BOX?
The Iron Man Mark XLVI Sixth Scale Power Pose Collectible Figurespecially features:
An authentic and detailed likeness of Mark XLVI in Captain America: Civil War
Approximately 31 cm tall
Metallic red, gold and dark silver colored painting on the sleek and streamlined Mark XLVI armor design
28 LED light-up points throughout parts of the armor (white light, battery operated)
Articulated head and arms
Two (2) pairs of interchangeable palms including:
– One (1) pair of fists
– One (1) pair of repulsor firing palms (white light, battery operated)
Figure stand with transparent pole, Mark XLVI nameplate, and Captain America: Civil War logo
It's not too dissimilar from the previous suit seen in Avengers: Age of Ultron but it is redder and that automatically makes it better. Although a few go-faster stripers on the chassis wouldn't hurt. The Mark 46 is expected to ship from August this year, and will set you back a cool $189.99.
Last Updated: January 12, 2016