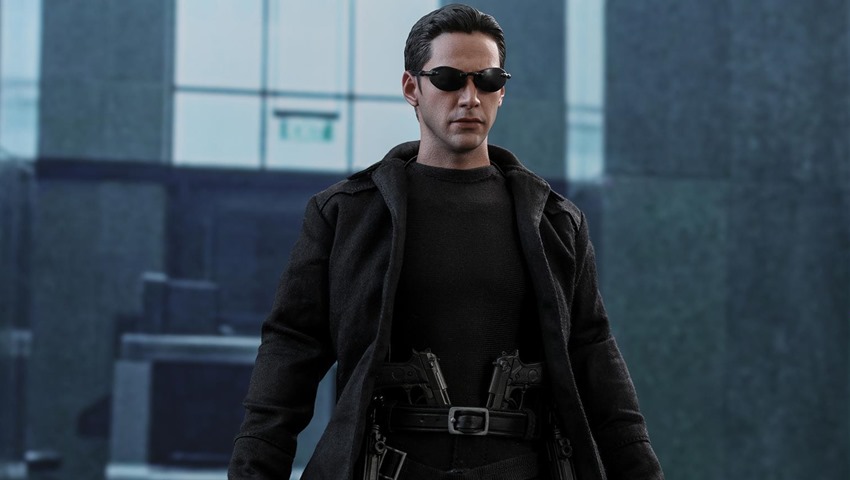 It's 1999, and the action movie genre has been turned upside down by a single scrappy upstart who came out of nowhere. Long before the internet generated hype, way before social media proved to be a powerful word of mouth machine, there was only a single question: What is The Matrix? Answer! A totally awesome two hour session of mind-bending action and philosophy that had a fondness for leeeeeeeeaaaather.
That was almost twenty years ago, and while The Matrix has been somewhat watered down by constant TV repeats and film sequels that we'd like to forget, there's no denying the sheer impact that the first film had. After 1999, every movie was interested in bullet time. Every movie wanted Hong Kong's hottest action choreographers to help frame a fight scene.
Me? I just wanted to know Kung Fu and not get distracted by the woman in the red dress. Something that I hope this sixth-scale version of Neo can achieve. I man just look at him. Whoa:
And here's the flavour text from Hot Toys describing this collectible figure:
In the binary world with one and zero codes, are you a zero, or The One? The legendary and widely acclaimed Sci-Fi blockbuster The Matrix has created tremendous impact on cinema and pop-culture of an era with its concepts and characters.

Portrayed by the renowned actor Keanu Reeves and ranked as one of the greatest movie characters of all time, Neo is foretold by the prophecy to be "The One" who can put an end to the war between humans and machines and free humanity.

With high anticipation from fans worldwide, Hot Toys is very excited to present the latest 1/6th scale Neo collectible figure from the award winning science fiction film The Matrix. With meticulous and careful craftsmanship, the very stylish 1/6th scale figure features a newly developed head sculpt highlighting stunning likeness of Keanu Reeves as Neo in the movie, the signature form-fitting outfit and long coat with sophisticated tailoring, "lots of guns" including assault rifles, various types of submachine guns, and pistols, the iconic sunglasses, and a specially designed dynamic figure stand!

Welcome to the Real World.
I have no idea why Hot Toys chose to make a movie masterpiece version of Neo…But I ain't complaining. If we can have screen-accurate Robocop figures, then we can have a plaza-destroying Neo as well. There's no solid pricing yet for this figure, but you can expect anywhere north of R3000/$200 for the fella. He'll ship with his trademark lobby clothing, sunglasses and enough guns to notice an odd bump sticking out of Charlton Heston's grave when groundskeeper do their weekly maintenance.
Last Updated: January 25, 2018