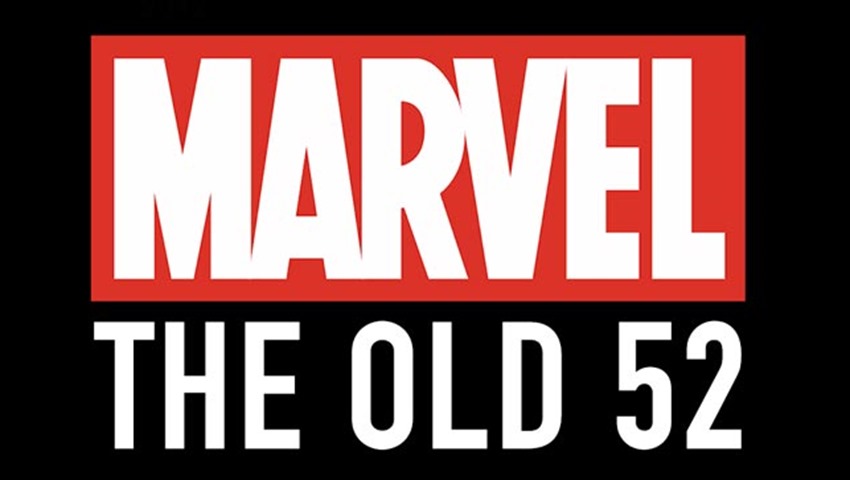 I've been trying to make some sense all morning of the current state of Marvel comics, following the weekend reveal of 52 new covers (sort of rings a bell) that will chart the direction of the Marvel Universe in the wake of Secret Empire and the Legacy mini-series that aims to re-establish the status quo of several familiar icons.
Last week, Marvel's editor in Chief Axel Alonso boldly claimed in a press release that Marvel Legacy will "take things back to our iconic history, with a firm eye on the future, Marvel Legacy will present stories that remind everyone — newcomers and longtime fans alike — why Marvel stands as the premier name in fiction". Fair enough. Of the 52 new covers that pay homage to classic front pages of the past that were (again that rings a bell can't figure out why) revealed, there were a few clues to future story developments. Here's a quick look at them:
Spirits of Vengeance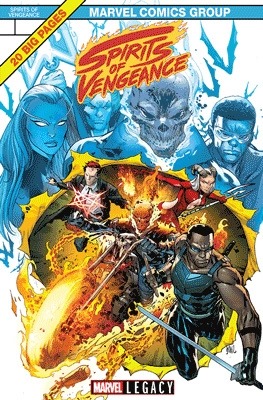 Back in the 1990s, Marvel was heavy into the supernatural side of their library. With Ghost Rider a massive hit (DAT MARK TEXEIRA ART!), spin-offs burnt hellfire rubber every week as that dark universe expanded. That resulted in the likes of Blade, Johnny Blaze and Vengeance getting plenty of time in the spotlight before the imprint ran out if fuel eventually.
Marvel is bringing the band back together, with a team that includes Johnny Blaze, Daimon Hellstrom, Satana, and Blade. Strangely, there's no sign of current Ghost Rider Robbie Reyes in that line-up. Not surprising at all, as his last comic book series tanked after only a handful of issues.
Thor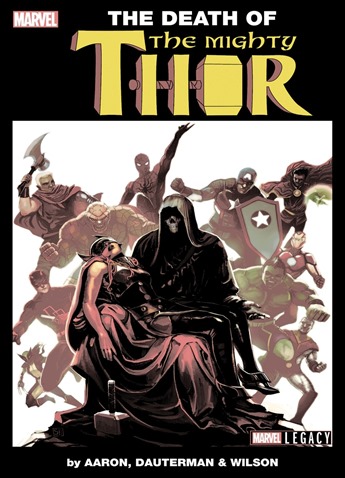 The move to make the original Thor unworthy might not have resonated with fans, but I've loved having Jane Foster as the latest God of Thunder. Jason Aaron's massive saga has begun hinting at an endgame, as the work he teased with Esad Ribic in The Mighty Thor is finally beginning to circle back to itself. The War Thor and the Odinson are on a collision course, and it appears that Jane Foster might not survive to see this tale reach its conclusion as the cover to her series references Jim Starlin's famous Death of Captain Marvel cover.
Marvel Two-In-One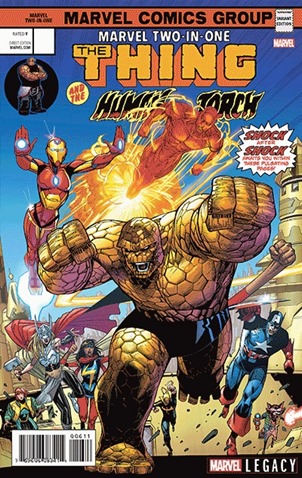 It's the return of the Fantastic…Two! Yup, Reed Richards and the Invisible Woman are still enjoying an extended family vacation in the Omniverse, which leaves the Thing to do what he did best several decades ago: Crack wise about Yancy Street and team up with Marvel heroes new and old to bust a few skulls. Well alright then.
Captain America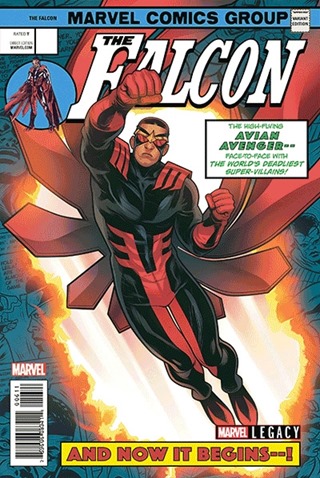 Urge to give a damn, fading. With Captain America's brand monumentally damaged after Secret Empire ends, I'm imagining that Sam Wilson is more than ready to retire the shield and step back into some familiar wings as the Falcon. Enh, pretty obvious stuff.
Spider-Man
He's in jail. Probably for whining about Uncle Ben again and the rotten "Parker Luck". Get over it Peter.
The Punisher
…I don't even care at this point. Here's the full list of Marvel's 52 titles that'll be out soon, which sadly hints at titles such as I Am Groot, Rocket, Doctor Strange and The Sorcerors Supreme, Nick Fury, Ultimates, Unstoppable Wasp and Infamous Iron Man biting the dust. Dammit Marvel. Newsarama has all 52 covers in GIF form available here, because having all of those covers in a gallery format this side would result in your data burning out faster than Human Torch branded condoms.
All-New Guardians of the Galaxy
All-New Wolverine
Amazing Spider-Man
Amazing Spider-Man: Renew Your Vows
America, Astonishing X-Men
Avengers
Black Bolt
Black Panther
Cable
Champions
Daredevil
Deadpool
Defenders
Doctor Strange
Falcon
Generation X
Hawkeye
Iceman
Incredible Hulk
Invincible Iron Man
Jean Grey
Jessica Jones
Luke Cage
Marvel Two-In-One
Mighty Captain Marvel
Mighty Thor
Moon Girl & Devil Dinosaur
Moon Knight
Monsters Unleashed
Ms. Marvel
Old Man Logan
Peter Parker: The Spectacular Spider-Man
Punisher
Royals
Secret Warriors
She-Hulk
Spider-Gwen
Spider-Man
Spirits of Vengeance
U.S. Avengers
Unbeatable Squirrel Girl
Venom
Weapon X
X-Men: Blue
X-Men: Gold
Marvel Legacy kicks off soon, with new creative teams starting new storylines in all of the aforementioned books for yet another relaunch. And probably more number one issues being added to the library, because that's exactly what Marvel needs at the moment.
Last Updated: June 27, 2017