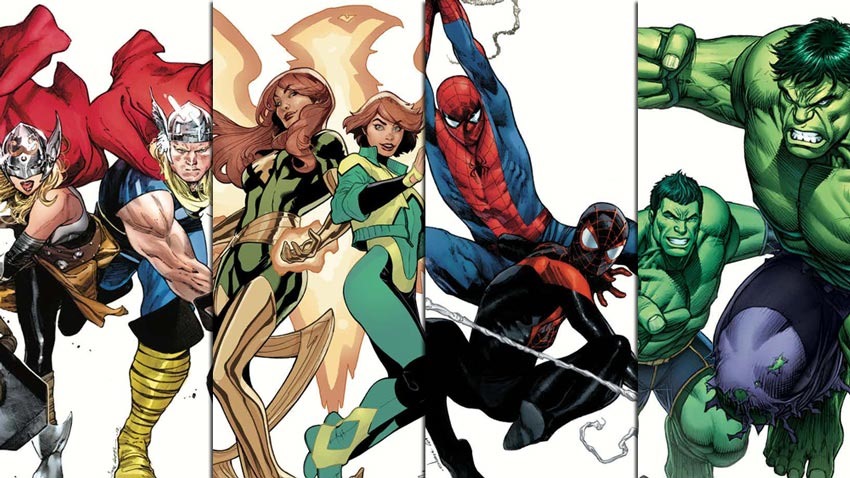 Super heroes get replaced all the time in comic books, much like the person your father's day card is addressed to every year. It's a time honoured tradition (super hero replacements, not your new dad I promise your mom is a classy lady), one that usually lasts around 24 issues before the original flavour of hero waltzes back into town to reclaim his mantle for an all-new all-different era in his life before the status quo sets back in.
I'm fine with that. Some of the best comic book stories have revolved around the idea of identity and a replacement hero who finds his feet in the deep end. Think Kyle Rayner in the Green Lantern comics when Hal Jordan went mad, Batman reclaiming his mantle from Azrael after the hero cracked under the pressure of being the Batman.
Marvel on the other hand, has done a terrible job so far. It's not that the new generation of characters are bad (quite the opposite actually), but rather the fact that most of them are being handed a legacy that is quite frankly…sh*t. Marvel Generations wants to change all of that with a ten-issue anthology series that pairs the next generation with the old.
Announced earlier, Marvel had yet to reveal the creative teams behind it. Well until this article at least. Here's who'll be handling what on the creative side of Generations:
GENERATIONS: THE STRONGEST starring Bruce Banner and Amadeus Cho, the Totally Awesome Hulk Written by Greg Pak Art by Matteo Buffagni
GENERATIONS: THE PHOENIX starring The Phoenix and Jean Grey Written by Cullen Bunn Art by RB Silva
GENERATIONS: THE BEST starring Wolverine and All-New Wolverine Written by Tom Taylor Art by Ramon Rosanas
GENERATIONS: THE THUNDER starring The Mighty Thor and The Unworthy Thor Written by Jason Aaron Art by Mahmud Asrar
GENERATIONS: THE ARCHERS starring Hawkeyes, Clint Barton and Kate Bishop Written by Kelly Thompson Art by Stefano Raffaele
GENERATIONS: THE BRAVEST starring Captain Mar-Vell and Captain Marvel Written by Margie Stohl Art by Brent Schoonover
GENERATIONS: THE MARVELS starring Captain Marvel and Ms. Marvel Written by G. Willow Wilson
GENERATIONS: THE IRON starring Iron Man and Ironheart Written by Brian Michael Bendis Art by Marco Rudy
GENERATIONS: THE SPIDERS starring Peter Parker: Spider-Man and Miles Morales: Spider-Man Written by Brian Michael Bendis Art by Ramon Perez
GENERATIONS: THE AMERICAS starring Steve Rogers: Captain America and Sam Wilson: Captain America Written by Nick Spencer Art by Paul Renaud
But don't just take my word for it! Here's a gallery of the covers for the first round of Generations, via CBR:
So uh…how is this actually happening? According to Marvel Comics editor-in-chief Axel Alonso, the answer will amaze you. Oh hey look, Clickbait Prime has invaded my story draft. Go on, get outta here you! "These stories do happen, they really count. They really matter," Alonso said to CBR.
This isn't some alternate reality story or some time-travel story. You don't take these characters off the board with the intention to keep them off the board forever. One of the tropes of our medium is characters get a second wind. They die and come back. That's part of the beauty of what we do.
Which currently explains Captain America's popularity, because that guy's real-life public approval is deader than the soldiers he served with in dubya dubya two. HEYOH!
Last Updated: May 22, 2017