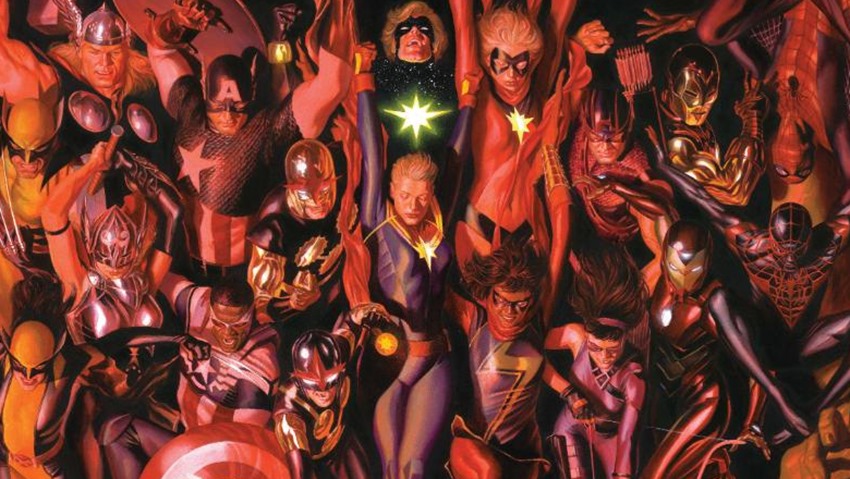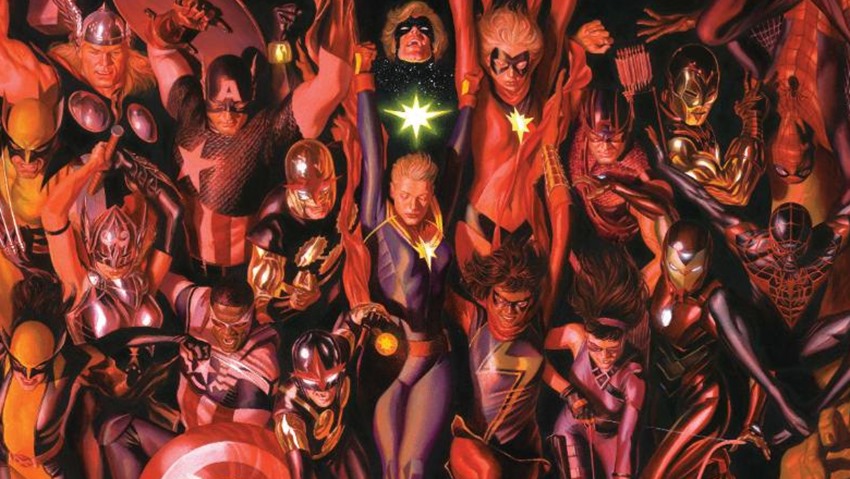 You walk into a comic book shop, clutching a wad of cash and you hungrily eye the clerk behind the desk who really really wishes that today was his day off. You're high off a marathon of Marvel movies, and you're hungry for more Iron Man. But wait a minute: Why the hell is Iron Man a young intellectually gifted lady/ Victor Von Doom right now? When did Thor lose so much weight and his lil' Mjolnir between his legs? WHY IS AUNT MAY THE NEW PUNISHER?
Times have changed over at Marvel. A new generation of heroes have risen, some good and some bad. While characters such as Kate Bishop, Kamala Khan and Miles Morales feel like worthy successors to the identities that they've claimed as Hawkeye, Miss Marvel and Spider-Man respectively, other new additions feel ham-fisted and forced upon readers so far.
It's very much old school and new school clashing right now, something that Marvel is looking to fix with their upcoming Generations event that'll run from July through to September over the course of ten of their books. Revealed on ABC News via Newsarama, Generations will be on stands just as Secret Empire kicks off, with the following creative teams working to restore several heroes to a familiar status quo: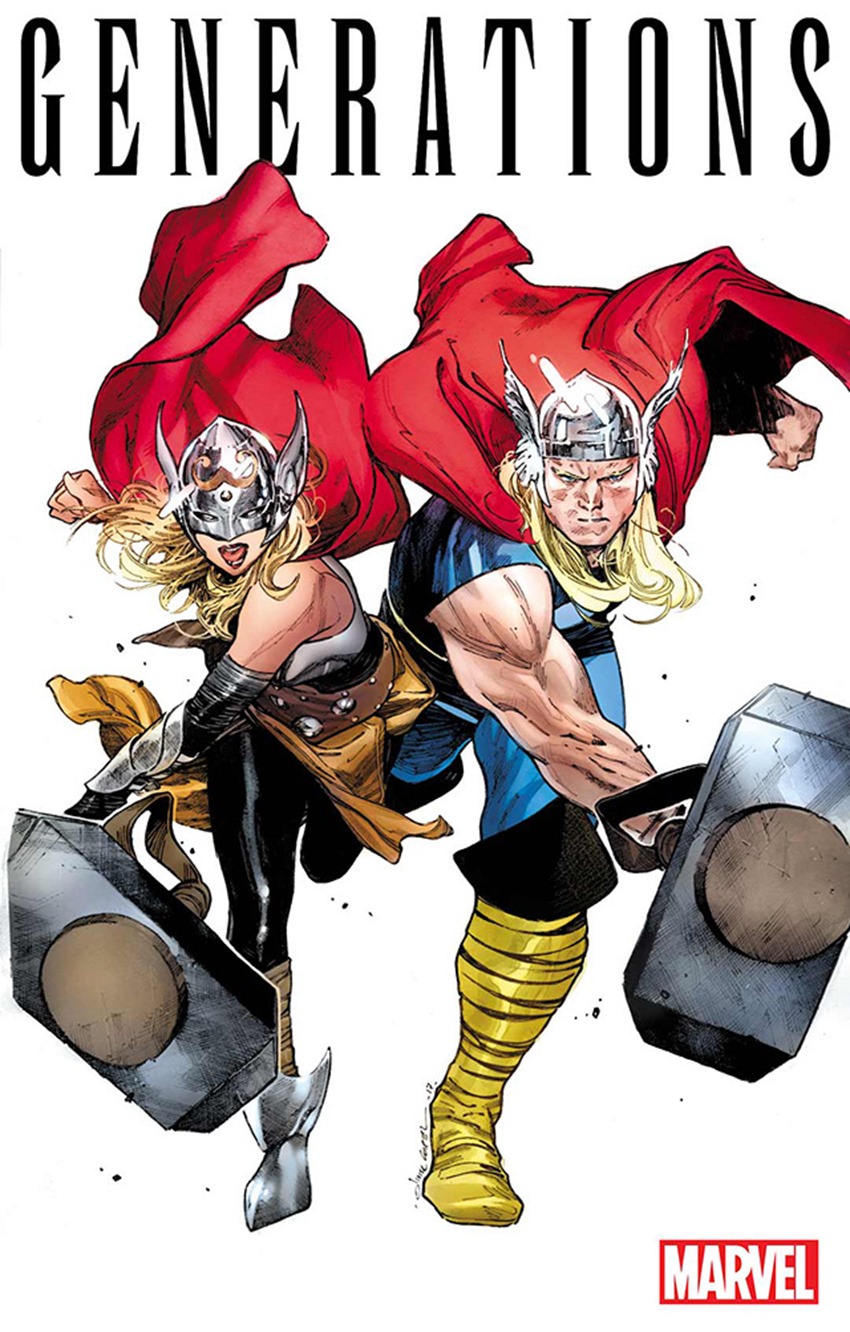 Iron Man (Tony Stark and Riri Williams) – written by Brian Michael Bendis
Spider-Man (Peter Parker and Miles Morales) – Brian Michael Bendis
Ms. Marvel (Carol Danvers and Kamala Khan) – G. Willow Wilson
Thor (Odinson and Jane Foster) – Jason Aaron
Hawkeye (Clint Barton and Kate Bishop) – Kelly Thompson
Hulk (Bruce Banner and Amadeus Cho) – Greg Pak
Jean Grey (young and older) – Dennis Hopeless
Wolverine (Logan and X23) – Tom Taylor
Captain Marvel (Mar-Vell and Carol Danvers) – Margie Stohl
Captain America (Steve Rogers and Sam Wilson) – Nick Spencer
"We are looking to honor the legacy of the entire universe, so we are taking the iconic legacy heroes and pairing them with the new class," Marvel Editor-in-Chief Axel Alonso explained to ABC, as he detailed how the younger generation of heroes would interact with their older counterparts.
It very much indicates where we are going in the future with all of these characters and what we've been planning for some time for the universe. How did we do this is part of the fun," he said. "Right now, Rogers isn't much of a good guy. Why would Sam want to team up with him? Banner's dead! Logan's dead! These are questions that demand to be seen. What I will tell you is we have an ingenious device [to bring them back.

I wish I could tell you the mechanism [to bring these characters back], but that's also a bit of a spoiler.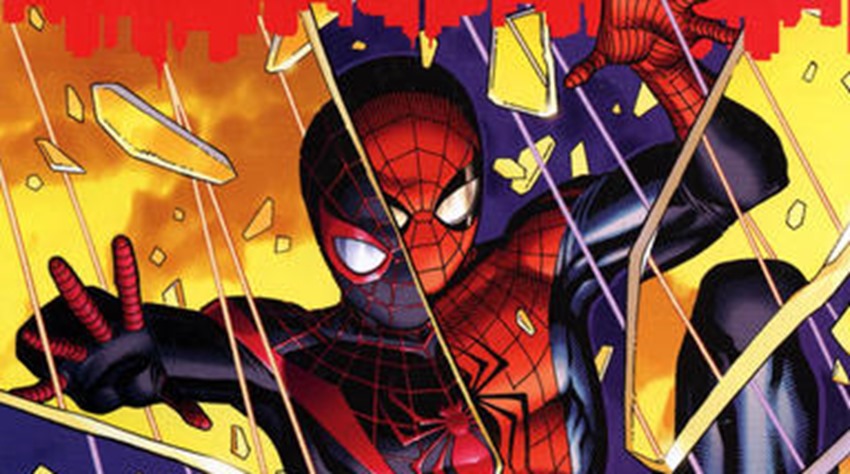 Some of these characters have interacted before, with the sessions themselves being great. The last time Spider-Man had a sidekick, he was essentially tutoring the comic book version of Justin Bieber and everybody just wanted that f***ing Alpha character murdered in his sleep. Miles Morales however? He's not a sidekick, but rather more of a protege. The interactions between these two wall-crawling heroes are easily a sign of Marvel moving in the right direction, something that Generations needs to build on if it wants to create a Marvel universe for readers both young and old.
"At its heart, Ms. Marvel is about growing up, and a big part of growing up is discovering that your idols have feet of clay – and forgiving them for their flaws as you gain an adult understanding of your own," writer G. Willow Wilson said to ABC.
Carol and Kamala have a close, mentor-and-student kind of relationship, but it's been tested in some very serious ways. They've come down on opposite sides of important questions.
The biggest spanner being thrown into these titanic team-ups? The meet-up that'll occur between the current Wolverine and her older, more decidedly dead original counterpart. "Being alongside Logan will only strengthen Laura's resolve to be the best there is at what she does," writer Tom Taylor explained.
Logan battled his demons, literally, until his dying breath. Laura has overcome most of her own demons in All-New Wolverine. She's ready to show what else her claws can do. She's ready to step away from her violent past and use her claws for good. You know, good stabbing.
Sounds interesting. Don't expect to see heroes replaced yet again, but rather a bigger setup towards a comic book universe where you get to pick and choose which version of which icon you want to read about monthly. I've never thought of that as a bad idea, rather a pretty solid one if it was handled properly ala Kate Bishop slinging arrows as her own Hawkeye or Miles Morales as Spider-Man.
The new generation of Marvel heroes deserve a chance to shine, but not at the expense of the legacies that they're building their identities upon. Hopefully Generations can do just that then.
Last Updated: March 27, 2017