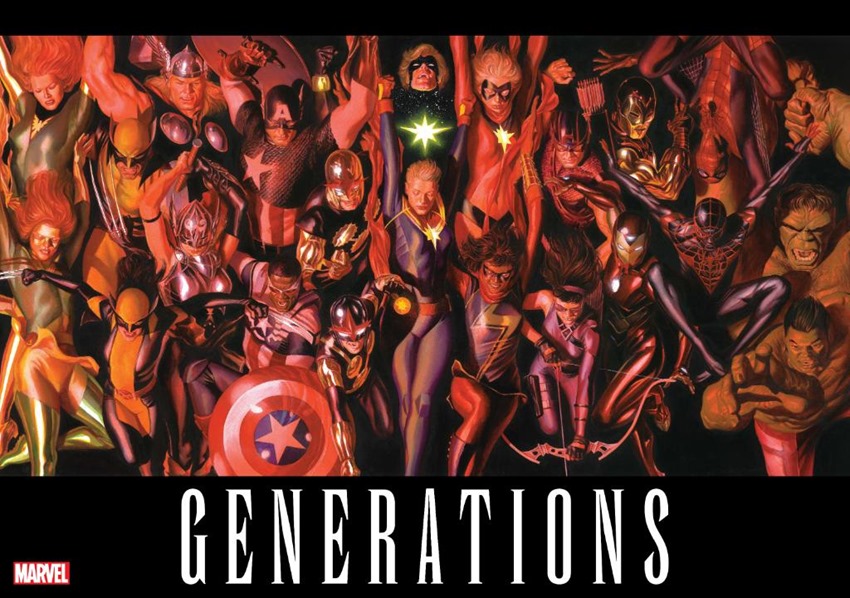 And I ain't talking about a Star Trek movie or a South African soapie which called the bluff of its striking actors either! Nope, in news that may come as a surprise, Marvel has another event comic on the way. This year the house of recycled ideas has plenty on its plate already: A monster mash throwdown, Captain America's Secret Empire and they've just wrapped up The Clone Conspiracy in the pages of Spider-Man.
Added to that list, is this utterly spectacular slice of Alex Ross art for what Marvel calls Generations:
GENERATIONS – coming Summer 2017. pic.twitter.com/YdLf37UL8G

— Marvel Entertainment (@Marvel) February 16, 2017
And that's all that Marvel has had to say so far. So what's on the horizon if you take a deeper look at the art? It feels very much like Marvel is attempting to discuss the legacies of their various characters, now that each of their heavyweight icons has at least two other replacements running around their omniverse. Spider-Man has Miles Morales filling in on web duties, Captain America has Sam Wilson wielding his best shield and so it goes on.
Some of these characters have worked brilliantly (Miles Morales, Kamala Khan as Miss Marvel and Kate Bishop as a Hawkeye for starters), while others have had less than positive receptions so far. Still, I've kind of got a feeling that Marvel is going back into the past yet again for this event. Alex Ross made a name for himself in the 1990s series Marvels, which examined how the ordinary people of that world interacted with the heroes and gods above them.
There was also work on the underrated Earth X books which went deeper into the mythology of these characters, so a series that focuses on the past, present and future of the Marvel universe sounds about right. But only Marvel knows what's going on right now, as they seek to get back to basics by following in the footsteps of DC's massively successful Rebirth.
Grodd knows they need it right now.
Last Updated: February 17, 2017