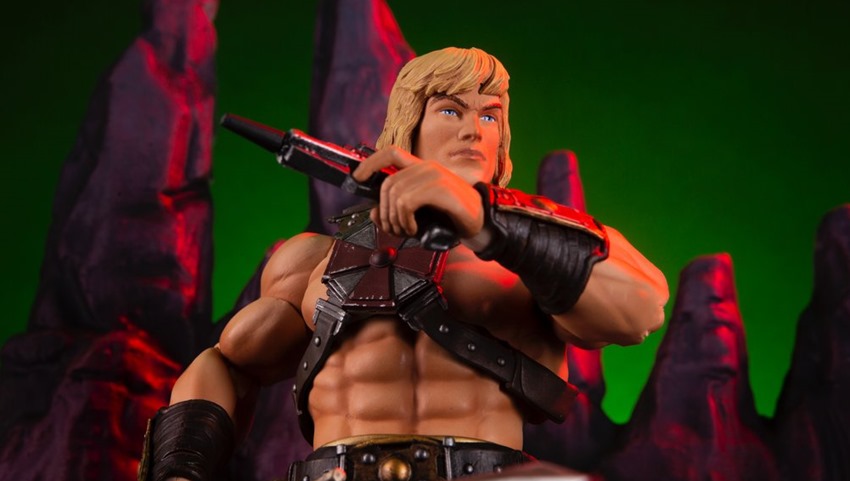 There's a lot of things that I can blame for any of my many, many, many shortcomings in life, but when it comes to a personal body image that is entirely unrealistic, my finger is pointed strictly at the Masters of the Universe. Sure, I may be squat like a Tolkien dwarf, but achieving a physique built on an endless supply of muscles that makes me look like a living Rob Liefeld drawing?
There ain't enough creatine in the world to make that dream a reality. Those plastic figures from yesteryear may be a collectible today, but I've got my eyes on a pair of Castle Greyskull residents which happen to have more realistic proportions…barely. Mondo is rolling out a He-Man and Skeletor selection of sixth-scale figures, that'll feature "over 30 points of articulation" and include iconic weapons such as the Power Sword, laser rifles and the leather harness that can barely contain the almighty nipples of Eternia's greatest hero.
Here's a nostalgic trailer of the figures in action:
And here are some more detailed pics of them, that have THE POOOOOOOOOOOOOWER!
By the Power of Grayskull, you too can have the Power! Mondo is proud to bring you the first in our Masters of the Universe 1/6 scale figure line- He-Man! Featuring over 30 points of articulation, fabric costume elements, and a lot of accessories, this is the most powerful figure you will ever find, from here to Eternia!

Mondo Exclusive: The Mondo Exclusive features an alternative Skeletor portrait, inspired by art in the vintage mini comics, for use with the Skeletor 1/6 Scale Figure, coming soon! This version is a TIMED EDITION and will be available until October 23.
The fact that you can sever their heads and replace them with more vintage facial expressions, is kind of horrifying. As usual, these fellas won't be cheap. He-Man wills set you back an easy $165 for the deluxe version, while Skeletor will cackle out a similar price when he arrives in the near future to help complete the collection.
Last Updated: October 5, 2018