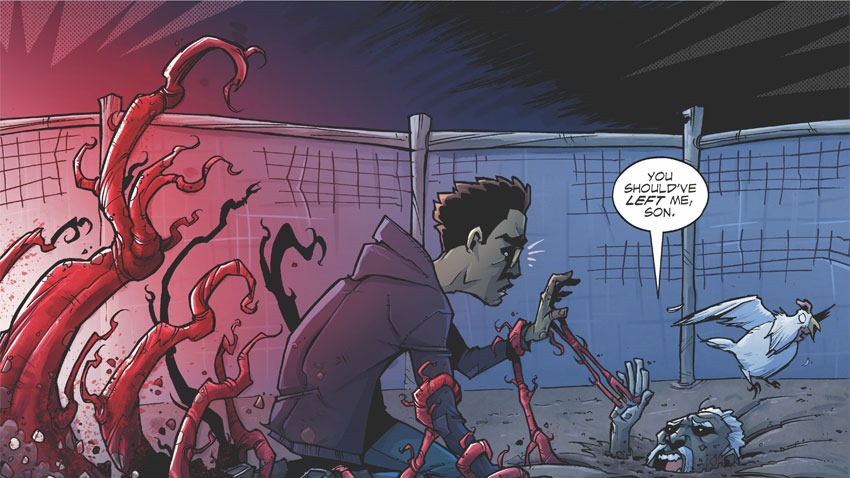 You want to read one of the greatest and weirdest comic book series of all time, that'll have you laughing and crying at the same time? Then I highly recommend dipping into the bonkers buffet of Chew. A story of food, illegal poultry and the extraordinary individuals protecting the world with their cuisine-based gifts, Chew is delicious stuff.
Jonathan Layman's story was utterly crazy stuff to read, but it was also an absolute treat to page through several times thanks to the art of Rob Guillory. Chew's co-creator made the madcap story palatable and easy to digest, while also stuffing it with plenty of jokes in every single panel. I genuinely cannot think of anyone other than Guillory being given the responsibility to realise that series.
So what's Guillory preparing next for fans to sink their teeth into? Well he's not straying too far from his Chew days, as Guillory's latest project is Farmhand over at Image Comics. Here's the twist: On a slice of land in America's heartland, Jedidah Jenkins grows a more unusual crop: Instant limbs and organs. Here's a breakdown of the story and preview pages straight from Image:
FARMHAND follows farmer Jedidiah Jenkins whose cash crop isn't corn or soy… it's a little more unusual. Jed grows fast-healing, plug-and-play human organs. Lose a finger? Need a new liver? He's got you covered. Unfortunately, strange produce isn't the only thing Jed's got buried. Deep in the soil of the Jenkins Family Farm, something dark has taken root, and it's beginning to bloom. FARMHAND is a dark comedy about science gone sinister and agriculture gone apocalyptic.
Well, how's that for a genetically-modified crop nightmare? Farmhand drops this July and remember: You are what you eat. Save me Poyo!
Last Updated: May 30, 2018