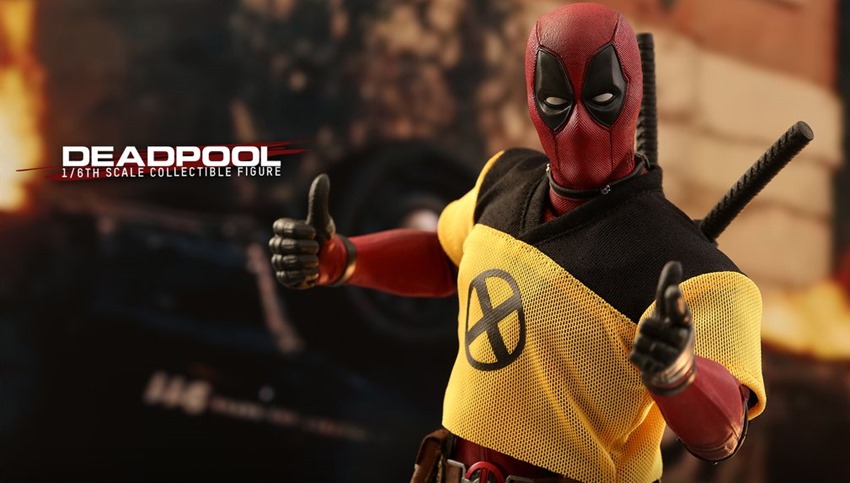 You want to know what one of the most sought-after collectible figures in the history of Hot Toys has been? It's not the grinning face of Jack Nicholson as the Joker of 1989. It's New Hat Iron Man (LOOK HE HAS A NEW HAT!). Rather, it's that merc with a mouth that stole the show in 2016 with the best Valentine's Day film of all time: Deadpool.
The original figure that mercifully covered up its face (which apparently resembled a scrotum sack stretched over an avocado), was a runaway hit. It sold out within days, and anyone looking to grab that figure would pay a hefty extra on eBay. Fast forward a few years, and of course Hot Toys was going to have another figure ready for Deadpool 2: Sequel Harder.
What could they really add though? The film costume that debuted in the first film is pretty much unchanged and already perfect. Well, Hot Toys did have something to toss towards fans: High heels baby:
♪ I can see a new horizon underneath the blazin' sky ♪

♪ I'll be where the eagle's flying higher and higher ♪

Everyone's favorite foul-mouthed Merc is back! Fans are extremely eager to see the highly-anticipated Deadpool sequel since the exciting trailers released worldwide! The red-suited mercenary otherwise known as Wade Wilson is battling time traveler Cable, to protect a fire-wielding mutant youth, while assembling some fellow mutants he calls X-Force, an offshoot of the X-Men.
WHAT'S IN THE BOX?
The 1/6th scale Deadpool Collectible Figure specially features:
Authentic and detailed likeness of Deadpool in Deadpool 2 movie
A Deadpool head with five (5) pairs of interchangeable eye pieces that can create numerous combinations of Deadpool's expressions
Approximately 31 cm tall
Body with over 30 points of articulation
Twelve (12) pieces of interchangeable gloved hands including:
One (1) pair of fists
One (1) pair of relaxed hands
One (1) pair of katana holding hands
One (1) pair for gun holding hands
One (1) pair of finger pointing hands
One (1) thumb-up right hand
One (1) OK-sign left hand
Each piece of head sculpt is specially hand-painted
Costume
One (1) specially tailored red and black-colored leather-like Deadpool suit
One (1) black and yellow-colored X-Men Trainee jersey
One (1) brown-colored leather-like belt with metallic red buckle
One (1) pair of thigh gun holsters
One (1) dagger sheath on shin
One (1) pair of metallic red and black-colored boots
One (1) pair of interchangeable black-colored high heels
Weapons
One (1) dagger
Two (2) metal katanas
Two (2) pistols
Two (2) shurikens
Accessories
One (1) pair of katana sheath
One (1) wearable neck device
One (1) unicorn doll
A specially designed Deadpool 2 dynamic figure stand with Deadpool nameplate, movie logo and backdrop
No price yet on this masterpiece, but expect it to cost just over R3000 when pricing does go live. That's like the cost of seven hilariously derailing one-liners from Ryan Reynolds. Celine Dion going up to 11, not included.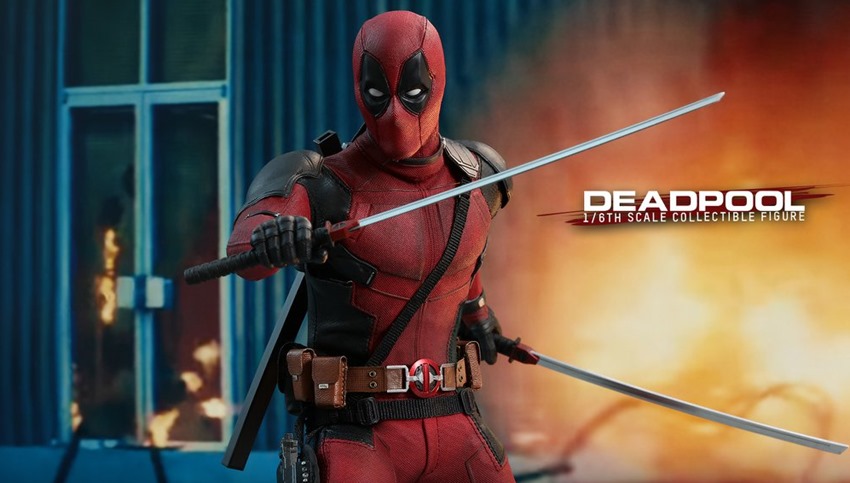 Last Updated: May 14, 2018