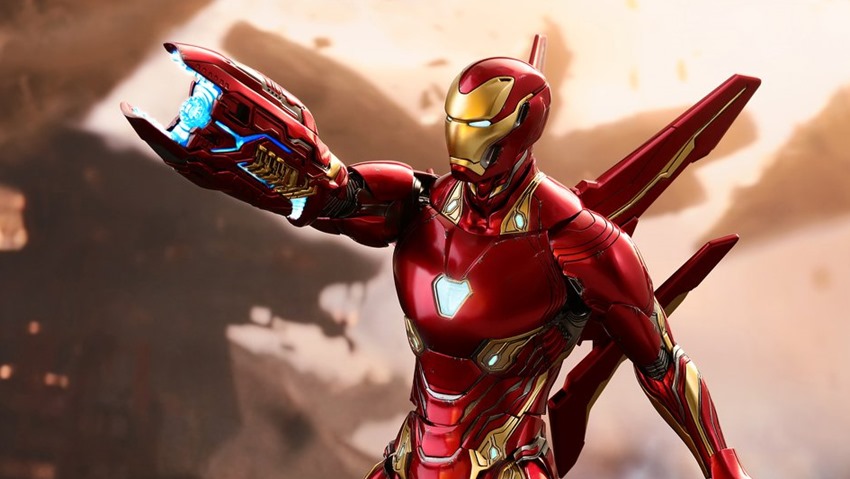 They say that clothes don't make the man, but bleeding edge armour that pushes the limit of what science is capable of certainly does make the Avenger. When Iron Man first kicked off a cinematic universe in 2008, his armour was bulky, cumbersome and cobbled together from whatever parts he could find. IN A CAVE!
Fast forward a decade, and the Iron Man armour is impossibly advanced, even by movie standards. With each successive appearance, Tony Stark's gear has evolved and become more streamlined, more organic in its appearance. The Mark 50 armour may just be the sum total of ten year's worth of scientific advancements and while you'll have to wait until April 27 to see it in action, you can take a peek at the suit below thanks to collectible manufacturers supreme Hot Toys.
There might be some slight spoilers in the images, but considering how Hot Toys happens to have a habit of being so damn good at their craft that they're currently being questioned for kidnapping actors and shrinking them, it's worth the risk:
A new threat has emerged from the cosmos and it became too heavy for any hero to handle! The Avengers must join forces to protect the world and to stop the ruthless warlord and his formidable allies from destroying the universe! Together with other significant superheroes, the latest Iron Man with advance technology that Tony Stark has created will fight against their ultimate villain Thanos!

Prior to the release of the highly anticipated Avengers: Infinity War, Hot Toys is ecstatic to officially introduce the first collectible – the 1/6th scale Iron Man collective figure, among the first wave of Avengers: Infinity War collectible's line-up.

With remarkable movie-accuracy, the 1/6th scale figure is expertly crafted based on Robert Downey Jr. as Tony Stark/Iron Man in Avengers: Infinity War, featuring an interchangeable helmeted head with metallic red, gold and silver colored armor painting and a newly painted head sculpt with striking likeness, LED light-up functions scattered throughout the armor, a variety of Iron Man's latest weapons including interchangeable LED light-up Nano Repulsor Cannon, Hand Cannon on left arm, a pair of attachable Nano Boosters on the back, and specially designed figure stand with movie logo.
This isn't the only Infinity Wars figure that Hot Toys will have on shelves, as they've already begun teasing Thor, Captain America, Black Widow, Vision and Thanos figures. And all of a sudden, I'm real glad that I only collect Batman figures, because a diecast Iron Man collectible will set you back an easy $300+ when it goes up for pre-order.
Last Updated: March 2, 2018