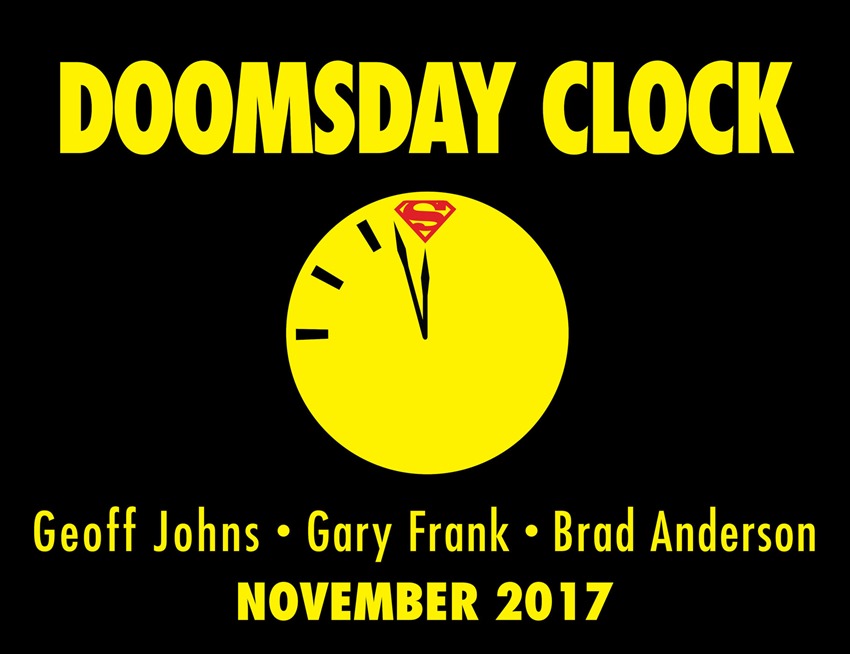 Optimism is something that the world needs a lot more of right now. Between all the hate-mongering of the far right attitude sweeping many a nation, it's inspiring to to see that there is some hope out there for a better tomorrow. A forging of positive emotions that have been the driving force behind DC Comics ever since the Rebirth initiative kicked off in 2016.
It's that brighter mindset which will soon find itself challenged in a new DC Comics mini-series out later this year that looks like it'll reintroduce the Watchmen to that universe while co-creator Alan Moore screams into the abyss, called "Doomsday Clock". Written by Geoff Johns, Doomsday Clock will be illustrated by Gary Frank (one of the best Superman artists ever) and Brad Anderson as Superman finds himself fighting Doctor Manhattan in "the conflict between optimism and pessimism."
"It's time. Last year, the DC Universe confronted the legacy of Watchmen in 'Rebirth' the way Watchmen confronted the legacy of superhero comics three decades ago," Geoff Johns said via Newsarama.
you need to have someone who personifies the cynicism that has leaked into our hearts
Thematically, and metaphorically, there was no better choice than to use Dr. Manhattan. If you're going to have a conflict between optimism and pessimism, a battle between the very forces of hope and despair, you need to have someone who personifies the cynicism that has leaked into our hearts and also has the ability to affect the entire DCU. It's all paying off this November with Doomsday Clock.
"Doomsday Clock is a story for fans who love the DC Universe and Watchmen and want to see what a master of this genre creates when he puts them together," Gary Frank added.
As for my artistic approach to the series, each panel is extremely detailed and I am constantly thinking through the position of every single element.
Hell yes. You've got one of the best event writers in the DC business, tag-teaming with two massive artistic talents for a series which has the potential to really speak to people during a dark time in our global history. I've always loved comic books when they reflect the era that they were produced in, something that DC has been doing beautifully as of late with their reborn status quo.
Doomsday Clock spins out of the events of The Button, a storyline which is currently tag-teaming between Flash and Batman comic books. Expect to see Doctor Manhattan put the Man of Steel through the ringer this November.
Last Updated: May 18, 2017