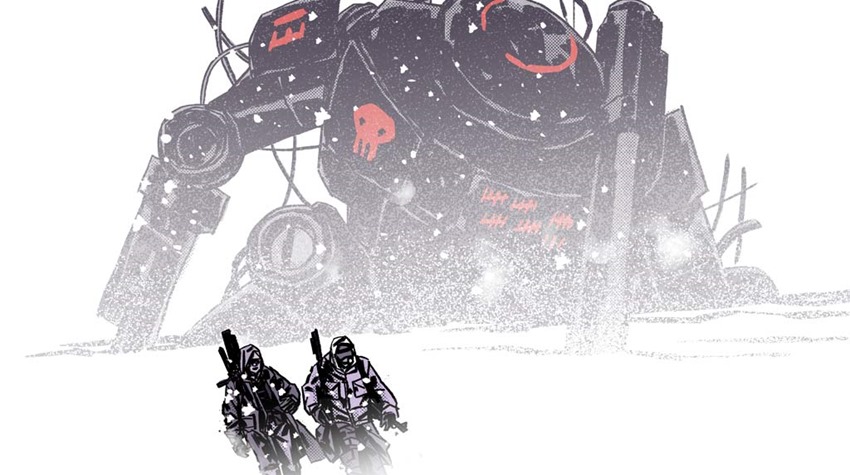 Never underestimate humanity, I always say. You know those people who look for answers as to how the pyramids were built? Occam's razor baby. It may sound mundane, but let's be honest: With enough whips and disposable slaves, there's nothing that you cannot accomplish. Which is going to make the aftermath of the apocalypse a very interesting world to not only survive in, but to also thrive in.
That's the setup for  Dead Kings, a new series from Aftershock Comics that kicks off in a devastated world and runs wild with some Russian flavour, magic and the ramifications of a society that imploded in on itself. Here's the official description and a sneak peek at the art from Aftershock, which features the talents of Midnighter's Steve Orlando, Suicide Squad's Matthew Dow Smith, Lauren Affe on colours and Thomas Mauer on letters:
Thrice-Nine took Sasha's brother, and it took Maria's heart.

Plagued by the ramifications of a techno-magic world now thirty years gone, Thrice-Nine is a dirty folklore world that limps along, degenerating into a place filled with paranoia and poison. Sasha Vasnetsov thought he'd escaped all that, but when news comes that his younger brother has been kidnapped by the secret police, he finds himself dragged back into the madness with a simple goal—to find his brother.

But Sasha is going to need help to do this, and he enlists Maria Kamenaya, a former warrior with hundreds of enemy kills to her name, who was betrayed by the very country she served. This quest is how they get both of those things back, in the lawless land of decapitated states…the land of DEAD KINGS.
"DEAD KINGS is a Post-Post-Apocalypse. The human spirit, and species, is enduring, even after we've invoked science and sorcery to drive ourselves to global war," Orlando said in a press release.
In DEAD KINGS, there is no mystery to magic, it's simply assets and technology, and like any other type of dangerous technology, we've abused it to create massive diesel-punk war machines that nearly destroyed the world. But the world's crawling back, and in Thrice-Nine, the kingdom that used to be the Slavic Empire, anarchy rules.

The Oprichniki, Secret Police without a Captain, run the loose nation as a police state, the Wild Wild East…rounding up anyone who disagrees with them or lives against their standards. The worlds been burnt and born again, but these human drives remain. Sasha Vasnetsov is on a quest to free his brother Gena from a work camp for the socially regressive.

He never accepted Gena until he was kidnapped, and now Sasha has promised to liberate his brother and return with him to their mother before the end of her fiftieth year. He's going to need help…and he finds it in Maria Kamenaya, an abandoned iron soldier and survivor of the Great Iron War that almost killed the world.

This is Russian Folklore to the tune of Blade Runner 2049, and it's going to take you to a world you've never seen…the world a generation after the end of the world, where the first sprouts of goodness are fighting to grow up through the cracks.

Please, come with us, and help them thrive.
Dead Kings kicks off on October 24. I'm in it solely for the giant robot Russian bear fight.
Last Updated: July 19, 2018