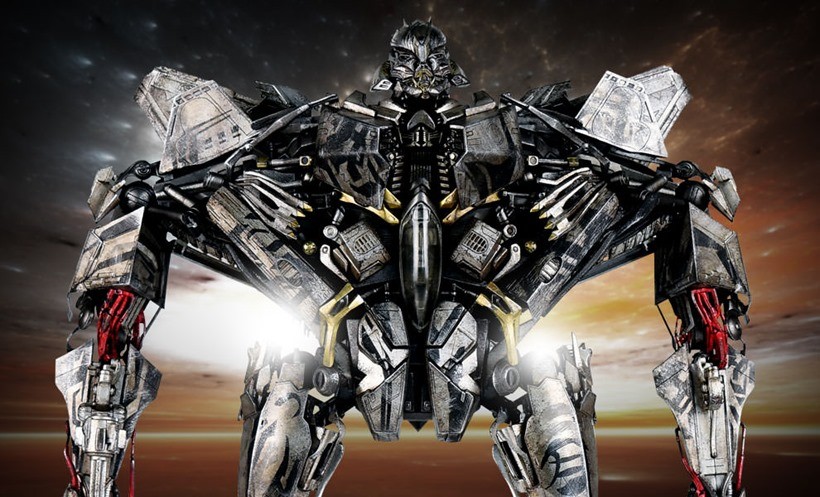 You think Transformers, and you think of Optimus Prime or Megatron, the heavyweights of the series. But the thing is, there's a ton of great characters in that series, who haven't had their chance in the spotlight. Characters like Sideswipe, Waspinator (YOU DAMN WELL KNOW IT!), Prowl and Soundwave. But in the shadows, its always been Starscream who was my favourite underdog.
A lightweight and ambitious backstabber who would sell you down the river at the first sign of opportunity, there's a lot to like about Starscream. Or is that just me who kind of identifies with him?
Anyway, Starscream got a raw deal in the Transformers movies, meeting his end at the hands of Shia Labeouf in Transformers: Dark of the Moon. Which is easily the silliest sentence ever devised since our president attempted to read long numbers out loud. Thing is, I still kind of dug the design that the films gave Starscream.
There's something appealing about the insect-like design process of the movie Transformers, that makes them more memorable to me. And it must have been an absolute nightmare to recreate that look, in a smaller replica scale form. ThreeA toys has their own Starscream on the way. Check him out:
The Starscream Premium Scale Collectible Figure features:
Stands approximately 16″ (40.64cm) Tall
Fully Poseable With Over 75 Points of Articulation including Articulated Fingers
Highly-Detailed Sculpt and Paint Application
Features Realistic Weathering Effect
Comes with additional Interchangeable Missile Cluster Arm
LED Light-Up Eyes
Of course, the Decepticon second-in-command will cost you plenty of Energon. Or around $430. Just don't turn your back on him.
Last Updated: November 23, 2015