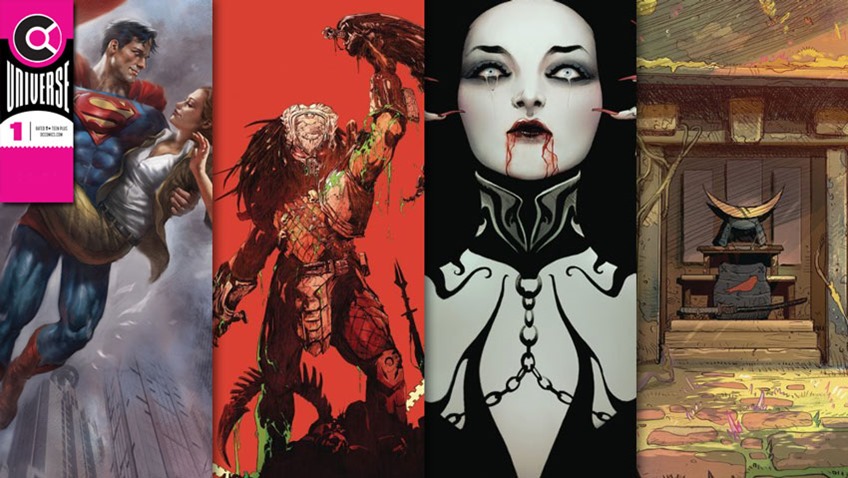 Comic book fans, worry not! In these uncertain times where your local comic book shop has shut its doors, single issues of your beloved titles will return to your weekly pull list. If there has been one epiphany throughout the Coronavirus saga, it's the idea that maybe giving one company control over the shipping and distribution of ALL the comic books is a bad idea.
For years, Diamond has been the only real game in town, grabbing all of the lucrative comic book distribution contracts and establishing a monopoly that either went uncontested or resulted in the competition being bought out. With the distributor temporarily ceasing operations in March, publishers finally began to realise that maybe there were alternative ways in which to get their products out to market.
DC Comics is taking a stab at that idea, with the Distinguished Competition setting up a new deal with Lunar Distribution and UCS Comic Distributors to get their wares out to market. "To assist with the immediate distribution of DC titles during the ongoing COVID-19 crisis, we've secured the assistance of two distributors to help facilitate orders of and shipping of our revised publishing schedule," DC said to retailers in an email Friday afternoon via Newsarama.
Lunar Distribution and UCS Comic Distributors have agreed to work with us to distribute these new comics. To that end, instead of simply 'lifting and shifting' the same scheduled titles for each of the missed in-store dates, we've made changes to the publishing schedule. The new schedule is designed to allow each of you to begin ordering a limited amount of DC product at first, and then ease back into the number of books that represents a normal release schedule from DC when your business can accommodate it.
Lunar and UCS are sister companies created by mail-order comics giants Discount Comic Book Service and Midtown Comics respectively. DC is planning to use these distributors to target specific states and provinces in the USA and Canada, urging retailers to use one of their distribution methods. It's nod a bad idea to sell comic books again, but it certainly does have its share on detractors!
Brian Hibbs of Comix Experience in San Francisco is one of those dissenting voices, claiming that the new model could put even more comic book shops out of business. More on that, right here at Bleeding Cool. It's a cutthroat business, and one that seems ready to only get bloodier in the months to come. Until then, here's a look at the comic book covers of the week that'll be covered in distributor gang blood!
Comic book covers of the week credits:
Teenage Mutant Ninja Turtles #105 by Sophie Campbell
Firefly #16 by Daniel Warren Johnson
Blade Runner 2019 #8 by Jesus Hervas
Killadelphia #6 by Jae Lee
Ronin Island #12 by Giannis Milonogiannis
Excellence #7 by Chris Brunner and Rico Renzi
Bang! #3 by Matt Kindt
The Clock #3 by Colleen Doran
Protector #4 by Vlad Legostaev
Pretty Violent #7 by Derek Hunter
Red Sonja & Vampirella Meet Betty & Veronica #11 by Fay Dalton
Transformers Vs. Terminator #2 by Gavin Fullerton
Aliens Vs. Predator: Thicker Than Blood #4 by Chun Lo
Quantum & Woody #4 by David Nakayama
Ghostbusters: Year One #4 by Dan Schoening
The Visitor #5 by Caspar Wijngaard
Faithless II #1 by Kris Anka
Alien: The Original Screenplay #1 by Guilherme Balbi
Killing Red Sonja #2 by Adam Gorham
Wellington #5 by Piotr Kowalski
Heart Attack #6 by Eric Zawadzki
Stranger Things: Into the Fire #4 by Evan Cagle
Lucy Claire: Redemption #5 by John Upchurch
Gung Ho #5 by Thomas van Kummant
Van Helsing Vs. League Monster #3 by John Royle
Judge Dredd: False Witness #2 by Jonboy Meyers
Conspiracy: Men In Black #1 by Leonardo Colapietro
Aero #10 by Keng
Black Widow: Widow's Sting #1 by Toni Infante
Force Works: 2020 #3 by Ryan Brown
Marvel #2 by Alex Ross
Scream: Curse Of Carnage #6 by Philip Tan
Star Wars #5 by Chris Sprouse
The Amazing Spider-Man: Daily Bugle #3 by Rahzzah
Werewolf By Night #1 by Takashi Okazaki
X-Factor #1 by David Baldeon
Action Comics #1022 by Lucio Parrillo
Basketful Of Heads #7 by Gabriel Rodriguez
Batgirl #46 by Inhyuk Lee
Batman Beyond #43 by Francis Manapul
Birds Of Prey #1 by Ray McCarthy and Emanuela Lupacchino
Detective Comics #1022 by Brad Walker and Andrew Hennessy
Red Hood: Outlaw #45 by Paolo Pantalena
Last Updated: April 20, 2020