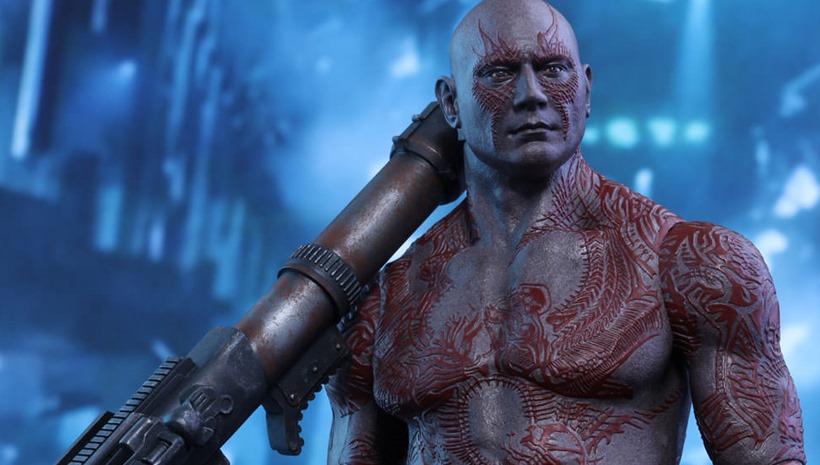 Since 2014, Hot Toys has steadily been pumping out toys based on one of the best science-fiction action flicks of recent memory, Marvel's Guardians of the Galaxy. Peter "Star Lord" Quill, Gamora, Groot and Rocket Raccoon have all been immortalised in sixth-scale form, but a certain other Guardian has been missing. A certain berserker who takes everything literally and happens to have been portrayed by a former animal from the WWE locker room.
I'm talking about Drax the Destroyer of course. He may have been nothing more than some very surly muscle when he was first introduced in Guardians of the Galaxy, but he became one of the more memorable characters thanks to Dave Bautista actually injecting some wry charm into his performance. And an ass-kicking so one-sided when he fought Ronan the Accuser, that it felt like a cosmic edition of the first Rocky Balboa vs Clubber Lang fight.
Hot Toys have been teasing Drax the Destroyer for ages. Now, he's finally here to catch any metaphors that may attempt to go over his head. For his reflexes are too quick for them:
WHAT'S IN THE BOX?
The Drax the Destroyer Sixth Scale Collectible Figure specially features:
A newly developed head sculpt with authentic and detailed likeness of Dave Bautista as Drax the Destroyer in Guardians of the Galaxy
Highly detailed facial expression with wrinkles and tattoos
Newly developed muscular body with over 26 points of articulation and detailed sculpture of the character's distinctive tattoos
Specially applied painting on skin and tattoos
Approximately 32 cm tall
Seven (7) pieces of interchangeable hands including:
– One (1) pair of fists
– One (1) pair of hands for holding blades
– One (1) pair of open hands
– One (1) right hand for holding rocket launcher
Each head sculpt is specially hand-painted
Costume:
One (1) pair of dark gray pants with detailed patterns
One (1) pair of interchangeable red colored Ravagers pants with detailed patterns
One (1) pair of black boots with blade sheath
Weapons:
One (1) rocket launcher
Two (2) blades
Accessories:
Specially designed figure stand with Drax the Destroyer nameplate and the movie logo
He doesn't have as many accessories as his other fellow Guardians, so Drax will set you back slightly less than the usual princely sum, at $219.99 when he arrives in August. And questions why he would run his finger over the neck of Ronan.
Last Updated: March 3, 2016