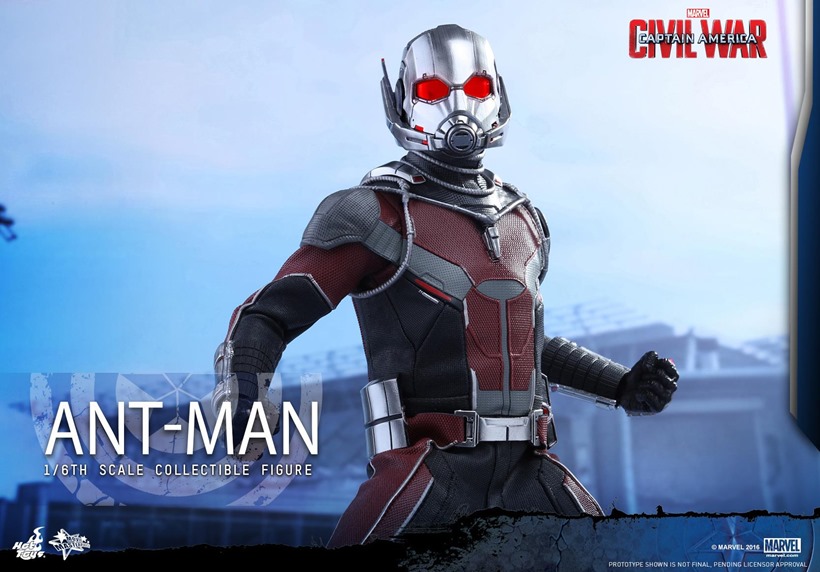 I think out of all the many movies that Marvel has done so far, Ant-Man is one of my favourites. Sure, it's high stakes super hero action with a predictable third act, but the core story of a father wanting to do right by his daughter? I'm a softie for movies like that. But it was also a fun movie. None of this plotting about the world ending in minutes or an overarching story thread about one of the Infinity gems that have been seen in several Marvel movies so far.
Instead, it was a damn fine adventure with a very likable cast. And I'm not just saying that because the main villain and I share a first name and a passion for shrinking people into molecular matter if they disagree with us. One of the big highlights for me however, was the actual look of Ant-Man. This was a very cool costume, leather and Pym particles combined into one very functional piece of gear.
The suit is getting an upgrade in Captain America: Civil War. Sleeker and more streamlined, I'm not totally sold on it. Yet. Which is why I'm perusing the sixth scale version to see just how much has changed:
WHAT'S IN THE BOX?
The Ant-Man Sixth Scale Collectible Figure specially features:
A newly developed head sculpt with authentic likeness of Paul Rudd as Ant-Man in the movie
New Interchangeable Ant-Man helmet with LED light-up function (battery operated)
Approximately 30 cm tall
Six (6) pieces of interchangeable gloved hands including:
– One (1) pair of relaxed hands
– One (1) pair of fists
– One (1) pair of gesturing hands
Each head sculpt is specially hand-painted
Costume:
One (1) new specially tailored black, red, and grey Ant-Man suit with embossed patterns and silver trims
One (1) pair of silver colored gauntlets
One (1) pair of black boots
Accessories:
One (1) miniature Ant-Man (Approximately 2.8cm tall)
Captain America: Civil War themed Team Captain America figure stand with character's nameplate and the movie logo
The latest Ant-Man figure will set you back $234.99 when it arrives in September. That's like watching Pym particles in action, as you see your money shrink out of sight.
Last Updated: April 5, 2016