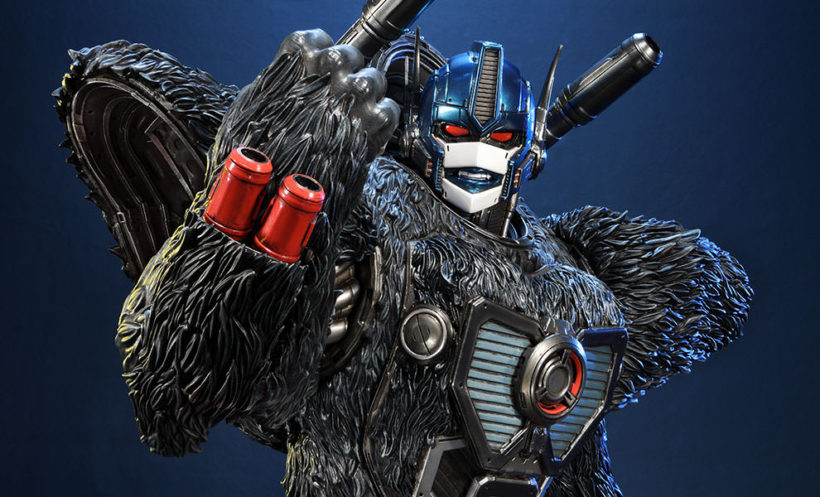 If you remember the traditional animated Transformers cartoons that starred Optimus Prime and Megatron engaging in battle while shifting to vehicle mode with that "SHAWAAHWAAA" sound, then I have some bad news for you: You're probably old AF, maaaaaaaaan. On the other hand, if you remember the dawn of the CG era and Optimus Primal taking the fight to Megatron on a prehistoric Earth, then you're slightly less older than sin.
Jokes aside, Beast Wars was  brilliant stuff when it first debuted. CG animation was still a novelty, but it worked perfectly for the franchise. Not only that, but we got to see Autobots and Decepticons assume the forms of animals and ancient reptiles. And we also got to hear Megatron end every sentence with "YEEESSSS", so it was double brilliant.
But there's something about Optimus Primal that helped anchor the show. A reluctant leader, untested and thrown into the deep end against the battle-hardened Predacons. And an overall awesome design, that made merged monkey with robot. And he's looking just prime here, in this new collectible statue:
Sideshow and Prime 1 Studio are proud to present Optimus Primal from Beast Wars: Transformers. Optimus Primal is one of the most prominent and well-recognized Maximals in Transformers history. Young and untested, Optimus Primal was a mere captain of an exploration ship when he and his crew were diverted off-course to pursue a stolen Predacon ship under the leadership of Megatron.

To Commemorate the 20th Anniversary of Beast Wars, we have crafted Optimus Primal with great attention to detail and the true original design of the character. The base on which it stands features a defeated waspinator among a jungle environment. The statue of Optimus features LED light-up eyes.
This optimal Optimus Primal ain't small, measuring in at a height of 25 inches. In a practical unit of measuring length, that's a whopping 63cm. The price tag? A staggering $999.99, as your wallet quickly transforms into a jet and blasts off to avoid your reach.
Last Updated: January 4, 2017