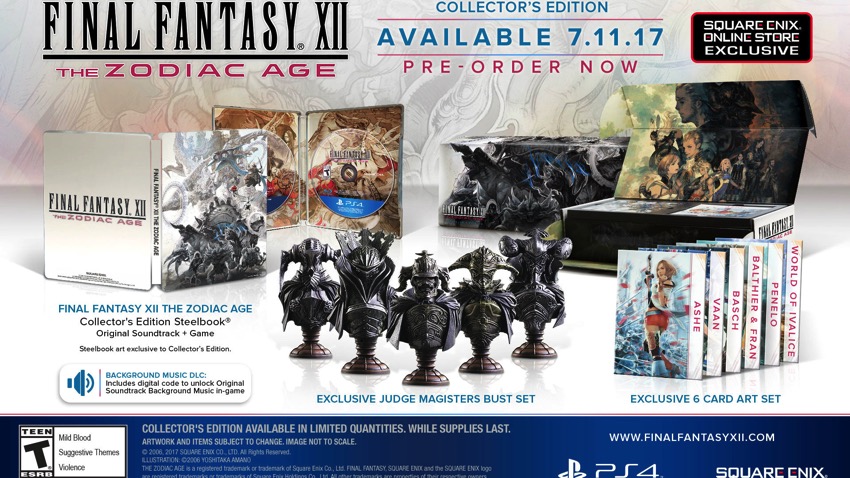 While digital games are always on the rise, I don't think we will ever see the end of retail releases of games. People want the physical stuff. Even if they don't necessarily desire the physical boxes for games, most of us want merchandise, especially if it's pretty. Which is why this Final Fantasy XII Zodiac Age Collector's Edition is so very cool.
In fact, I already took the liberty of unwrapping it for you so that I could show it off. That's right, when you win this, you can know that my hands have already lovingly caressed each item:
So, what's in the box? Here is the full listing:
FINAL FANTASY® XII THE ZODIAC AGE game
Exclusive Judge Magisters Mini Bust Set, featuring busts of Judges Bergan, Drace, Gabranth, Ghis, and Zargabaath (Exclusive to Collector's Edition. Will not be sold separately.)
Selection of soundtrack music from famed composer Hitoshi Sakimoto
Steelbook featuring art exclusive art to the Collector's Edition
Set of Six Art Cards, featuring Vaan, Ashe, Basch, Fran & Balthier, Penelo and World of Ivalice
Digital code to unlock the original soundtrack background music option in-game
Plus, aside from the box, you'll be getting a snazzy Final Fantasy XII: Zodiac Age T-shirt. Our review for the game is still incoming, but at least I can tell you first hand that the swag gets a top score from me. Those mini-busts are truly fantastic and will make an impressive adornment for your desk, display case or entertainment area.
Okay, I've talked it all up enough, right? So, how can you enter to win? It's easy! Just fill in this form and you will be entered in the draw.
Error: Contact form not found.
We will be pulling a winner on 24 July, and sorry but this is a big box so you will need to be a resident of South Africa to receive this prize. Also, as always, duplicate emails will be culled from the entry list. Good luck and may Random.org be ever in your favour.
Last Updated: July 10, 2017