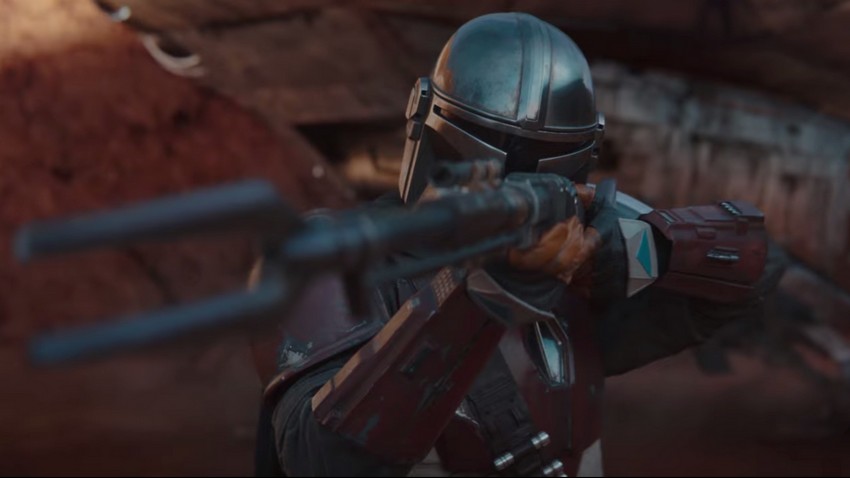 "Bounty hunting is a complicated profession," declares Werner Herzog's raspy voice in the new trailer for The Mandalorian. Based on this latest action-packed preview of the upcoming flagship Star Wars show on Disney+, most of that complication boils down to deciding on the many ways you're going to kick some ass!
Well, damn. And hey, Pedro Pascal's titular bounty hunter actually speaks! In fact, based on the one scene, it would appear that Pascal is not going full-Dredd for this series and will be taking off his helmet at some point. Honestly, I'm down for that. That and a whole lot of other awesome stuff we glimpse here.
Early buzz for The Mandalorian has been crazy good, and this trailer is definitely not doing anything to blunt that opinion. Those opinions were just based on carefully curated bits of footage that Disney showed off to press a week ago though. Don't expect any other early reactions though as the House of Mouse will not be sending out any preview screeners of The Mandalorian to press. This was revealed by the New York Times (via Bleeding Cool) and it would appear there's a very good reason for it.
The Mandalorian, which contains a dramatic Star Wars-universe spoiler in the first episode and will be available the moment Disney Plus starts, has been as heavily promoted as a traditional feature film, with billboards, 30-second television commercials, radio spots, and digital ads.
A dramatic Star Wars-universe spoiler in the first episode? C'mon! As if we needed another reason to be hyped for this show's release on 12 November! (Well, that's if we can somehow get a way to actually watch it here in South Africa!)
The Mandalorian was created and written by Jon Favreau, who may not be stepping behind the camera for the 8-episode first season (though he'll remedy that for season two), but he's assembled an incredible gang of directors in Dave Filoni, Rick Famuyiwa, Deborah Chow, Bryce Dallas Howard, and Taika Waititi. Waititi also pulls double duty as he plays a character in the cast which also includes Gina Carano, Nick Nolte, Giancarlo Esposito, Emily Swallow, Carl Weathers, Bill Burr, Omid Abtahi, Taika Waititi, and the aforementioned Herzog.
We can get another look at some of the characters played by that cast thanks to a new batch of character posters that have also dropped with the new trailer.
Last Updated: October 29, 2019