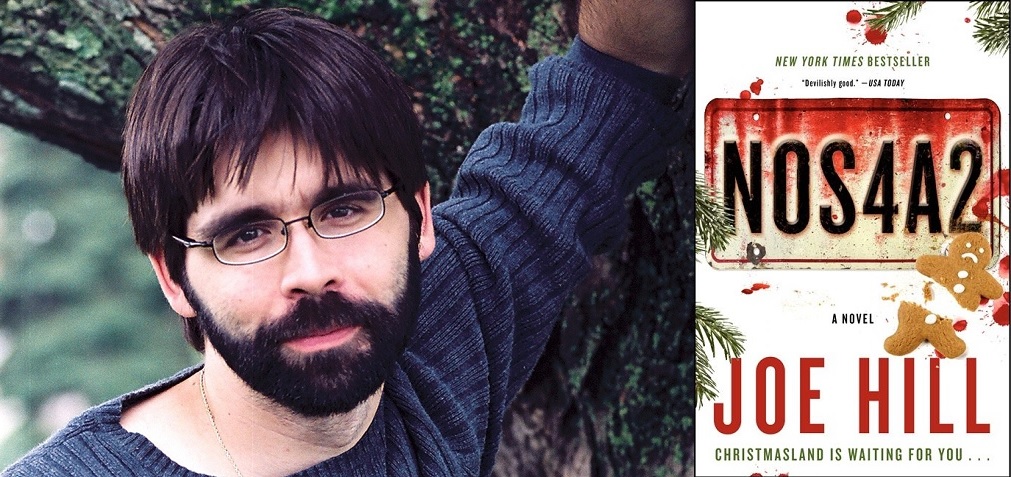 AMC, the US cable channel that's home to series such as The Walking Dead, Preacher, and Into the Badlands, has announced that they've greenlit a series based on author Joe Hill's 2013 supernatural horror novel 'NOS4A2'. The production, in conjunction with Tornante Television (best known for Netflix's BoJack Horseman), is set for a 10-episode-long first season that's due in 2019.
For those of you who've not heard of the author, Joe Hill is the pseudonym of Joseph Hillstrom King – son of legendary horror writer Stephen King. NOS4A2 is his third novel, following Heart-Shaped Box (2007, which I've read and was pretty good) and Horns (2010, which was adapted into the 2014 movie starring Daniel Radcliffe). He's also won the Eisner Award for his work on the comic book series Locke and Key.
The novel also includes references to his previous works, creating a shared world for his writing in much the same way King has done. He's also referenced some of King's characters and locations in the novel, but has said that's more of a homage and something fun for readers, and not connecting his world to that of his father's.
The show's official plot synopsis is as follows:
"NOS4A2" introduces Vic McQueen, a young, working class artist who discovers she has a supernatural ability to track the seemingly immortal Charlie Manx.  Manx feeds off the souls of children, then deposits what remains of them into Christmasland – a twisted Christmas Village of Manx's imagination where every day is Christmas day and unhappiness is against the law.  Vic must strive to defeat Manx and rescue his victims – without losing her mind or falling victim to him herself.
To give a bit more detail to that, McQueen has the ability to track down missing objects (and people) by accessing a "Shorter Way Bridge" – imagine a type of supernatural bridge that you walk across – which takes her to the location of the things she's trying to find. It's something that takes a physical and psychological toll on her, and she's forced to hide the truth of her ability because of how crazy it sounds. And in case you were wondering about the on-the-nose name of NOS4A2 it's because Manx is known as The Wraith, after his classic Rolls Royce Wraith which has that license plate.
Showrunning duties will be held by Jami O'Brien (Hell on Wheels, Fear the Walking Dead), while Hill is on board the production as one of the executive producers. He's obviously thrilled with the deal, saying at the announcement:
"I couldn't be more excited about the forthcoming adaptation of NOS4A2. I know it's in good hands with showrunner Jami O'Brien: her beautifully composed scripts show a writer at the height of her powers, one who has an exquisite touch with character and a relentless instinct for suspense.

AMC's record speaks for itself: who wouldn't want to be in business with the 'Mad Men' who 'Broke Bad' and made 'The Dead Walk?' And Tornante's dedication to bringing singular visions to TV has freed everyone involved to do their best and truest work. I can't wait to see Vic McQueen turn the throttle and go after Charlie Manx in 2019. Let's ride."
O'Brien was a touch more restrained, simply saying:
"I loved Joe Hill's fantastic book from the moment I read it, and look forward to continuing to work with Joe, AMC, and Tornante on this exciting material."
I hope Hill has better luck with his work being adapted for the screen than his father has.
Last Updated: April 11, 2018