It feels like most of this month's home releases from Ster Kinekor were just on the cinema circuit. That's not so great for a sense of 2018 speeding by, but it does mean you now get to watch some notable critical and commercial hits from the comfort of your couch. That's certainly a win.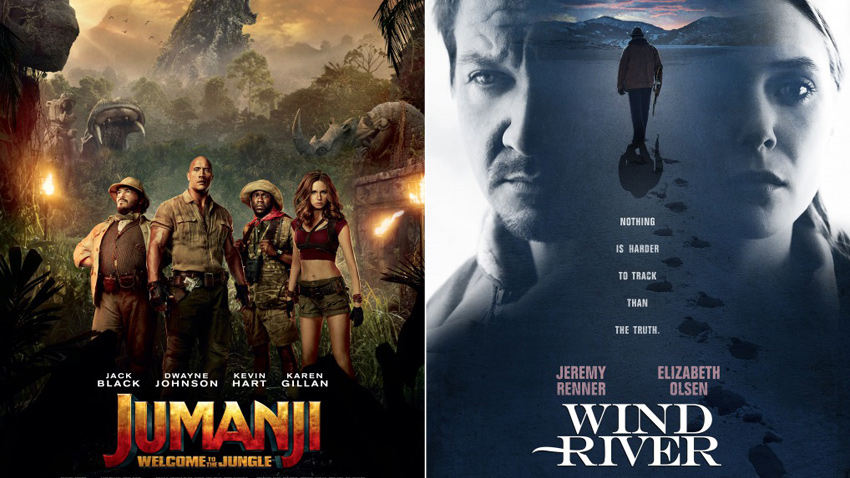 Jumanji: Welcome to the Jungle
Genre: Action / Adventure
When four high-school kids discover an old video game console with a game they've never heard of–Jumanji–they are immediately drawn into the game's jungle setting, literally becoming the avatars they chose: gamer Spencer becomes a brawny adventurer (Dwayne Johnson); football jock Fridge loses (in his words) "the top two feet of his body" and becomes an Einstein (Kevin Hart); popular girl Bethany becomes a middle-aged male professor (Jack Black); and wallflower Martha becomes a badass warrior (Karen Gillan). What they discover is that you don't just play Jumanji–you must survive it. To beat the game and return to the real world, they'll have to go on the most dangerous adventure of their lives, discover what Alan Parrish left 20 years ago, and change the way they think about themselves–or they'll be stuck in the game forever…
Jumanji: Welcome to the Jungle could have been a lazy nostalgia cash-in. In reality, the film turned out to be a surprising delight: fun, funny and even a little heartfelt. Despite not being based on a game itself, it feels like the best video game movie ever made, given the way it cleverly draws on the medium's tropes.
Critical Hit: 8/10
Rotten Tomatoes: 76%
Metacritic: 58
Wind River
Genre: Thriller / Crime
Wind River is a chilling thriller that follows a rookie FBI agent (Elizabeth Olsen) who teams up with a local game tracker with deep community ties and a haunted past (Jeremy Renner) to investigate the murder of a local girl on a remote Native American Reservation in the hopes of solving her mysterious death. Written and directed by Taylor Sheridan, Wind River also stars Gil Birmingham, Jon Bernthal, Julia Jones, Kelsey Asbille, and James Jordan.
Highly acclaimed Wind River isn't your conventional glossy whodunnit. More sombre and thoughtful, it won't be for everyone, but if you like extremely well-acted, character-driven cinema that keeps things realistically subdued, seek this one out.
Rotten Tomatoes: 87%
Metacritic: 73
Molly's Game
Genre: Crime / Drama
Molly's Game is the true story of Molly Bloom (Jessica Chastain) a beautiful, young, Olympic-class skier who ran the world's most exclusive high-stakes poker game for a decade before being arrested in the middle of the night by 17 FBI agents wielding automatic weapons. Her players included Hollywood royalty, sports stars, business titans and finally, unbeknownst to her, the Russian mob. Her only ally was her criminal defense lawyer Charlie Jaffey (Idris Elba), who learned that there was much more to Molly than the tabloids led us to believe.
Nominated for Oscars, Golden Globes and assorted other awards (for Best Actress and Best Adapted Screenplay, fyi), Molly's Game certainly has its flaws, but although it doesn't quite deliver what it promises, it's made consistently entertaining by an electric Chastain and some extremely snappy dialogue.
Rotten Tomatoes: 82%
Metacritic: 71
Amityville: The Awakening
Genre: Horror
Belle (Bella Thorne), her little sister, and her comatose twin brother move into a new house with their single mother Joan (Jennifer Jason Leigh) in order to save money to help pay for her brother's expensive healthcare. But when strange phenomena begin to occur in the house including the miraculous recovery of her brother, Belle begins to suspect her Mother isn't telling her everything and soon realizes they just moved into the infamous Amityville house.
It took around three years for Amityville: The Awakening to finally be released. Despite the delays, the horror film is actually quite watchable. Absolutely B-grade and riddled with haunted house cliches, but still more mediocre than downright terrible.
Rotten Tomatoes: 29%
Metacritic: 42
Megan Leavey
Genre: War / Drama
Megan Leavey is based on the true life story of a young marine corporal (Kate Mara) whose unique discipline and bond with her military combat dog saved many lives during their deployment in Iraq. When she is assigned to clean up the K9 unit after a disciplinary hearing, Leavey identifies with a particularly aggressive dog, Rex, and is given the chance to train him. Over the course of their service, Megan and Rex completed more than 100 missions until an IED explosion injures them, putting their fate in jeopardy.
Be warned: You will cry with this one, especially if you're a dog lover. Megan Leavey leans towards the formulaic side but it's sensitive and sincere instead of emotionally-manipulative, and anchored by a superb performance from Kate Mara.
Rotten Tomatoes: 84%
Metacritic: 66
The Exception
Genre: War / Drama
German soldier Stefan Brandt (Jai Courtney) goes on a mission to investigate exiled German Monarch Kaiser Wilhelm II (Christopher Plummer). The Kaiser lives in a secluded mansion in The Netherlands, and as Germany is taking over Holland, the country's authorities are concerned that Dutch spies may be watching the Kaiser. As Brandt begins to infiltrate the Kaiser's life in search of clues, he finds himself drawn into an unexpected and passionate romance with Mieke (Lily James), one of the Kaiser's maids whom Brandt soon discovers is secretly Jewish. When Heinrich Himmler (Eddie Marsan), Head of the SS, decides to come for an unexpected visit with a large platoon of Nazis in tow, the stage is set for a breathtaking showdown, as secrets are revealed, allegiances are tested, and Brandt is forced to make the ultimate choice between honoring his country and following his heart.
Part throwback movie romance, part war drama, The Exception is elegant and engaging for the most part. It gets silly towards the end, and you should avoid it if you're looking for a serious examination of the Holocaust, but Plummer alone makes it worth a watch.
Rotten Tomatoes: 75%
Metacritic: 60
Brad's Status
Genre: Comedy / Drama
Brad Sloan (Ben Stiller) has a satisfying career and a comfortable life in suburban Sacramento where he lives with his sweet-natured wife, Melanie (Jenna Fischer), and their musical prodigy son, Troy (Austin Abrams), but it's not quite what he imagined during his college glory days. Showing Troy around Boston, where Brad went to university, he can't help comparing his life with those of his four best college friends: a Hollywood bigshot (Mike White), a hedge fund founder (Luke Wilson), a tech entrepreneur (Jemaine Clement), and a political pundit and bestselling author (Michael Sheen). As he imagines their wealthy, glamorous lives, he wonders if this is all he will ever amount to. But when circumstances force him to reconnect with his former friends, Brad begins to question whether he has really failed or is, in some ways at least, the most successful of them all.
After middling on-screen fortunes in recent years, Ben Stiller shines in this introspective indie flick. Brad's Status could have been self-pitying (some critics say it still is), but Stiller adds soul and likeability, and the whole project has a sense of authenticity.
Rotten Tomatoes: 82%
Metacritic: 71
Wonder Wheel
Genre: Drama
Wonder Wheel tells the story of four characters whose lives intertwine amid the hustle and bustle of the Coney Island amusement park in the 1950s: Ginny (Kate Winslet), an emotionally volatile former actress now working as a waitress in a clam house; Humpty (Jim Belushi), Ginny's rough-hewn carousel operator husband; Mickey (Justin Timberlake), a handsome young lifeguard who dreams of becoming a playwright; and Carolina (Juno Temple), Humpty's long-estranged daughter, who is now hiding out from gangsters at her father's apartment.
Woody Allen's latest looks gorgeous, and Winslet in particular does great work, but this Streetcar Named Desire wannabe is far from the director's best. Wonder Wheel failed to strike a chord with critics or audiences on release. Mostly it feels like a disjointed stage production that never comes together.
Rotten Tomatoes: 31%
Metacritic: 45
Last Updated: April 13, 2018