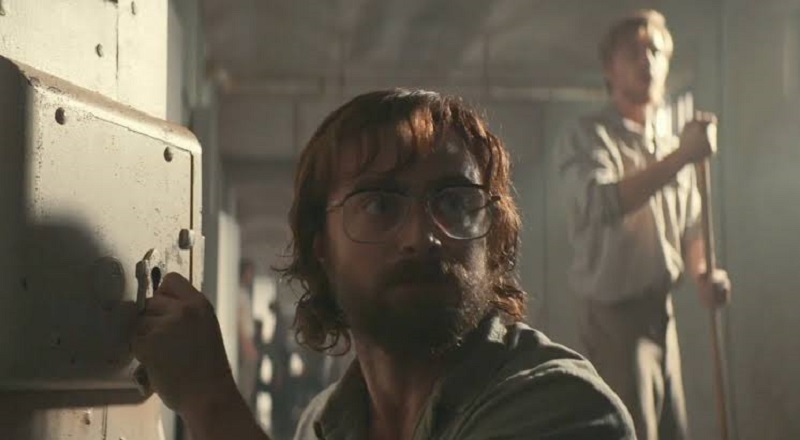 We've had Escape from Alcatraz, Escape from New York and then Escape from Los Angeles and now it's time for the ultimate escape movie of them all, Escape from Pretoria… Wait, what? That's right, after deciding that American prisons and cities are just not tough enough to escape from, the film industry is ready to tackle a different beast and try to get a team of actors to attempt to escape out of Pretoria.
On the 40th anniversary of African National Congress activist Tim Jenkin escaping from a maximum-security prison in Pretoria, comes the trailer for the movie about how he and a team of fellow inmates were able to do so. Starring Daniel Radcliffe as Jenkin – who seems intent on doing everything possible to distance himself from his wizarding days – alongside a cast including Daniel Webber, Mark Leonard Winter, Ian Hart and Stephen Hunter sees them pull off what had seemed impossible to escape from one of the most brutal prisons in South Africa using some ingenuity, hand-made wooden keys and some really bad South African accents.
Well to be fair, despite the off-putting accents which are likely to only ever be noticed by South Africans, the movie doesn't look too bad. Prison escape movies can often end up cliched, but that this is based on truth and has a strong political message, makes it more appealing. The film is based on Jenkin's own book of the same name and is directed by Francis Annan, who also co-wrote the script with L.H. Adams.
Hearing those bad accents though makes you wonder when the film industry will eventually star to hire South African actors who can genuinely speak the accent rather than sticking with foreigners trying to pull off what must be one of the most difficult accents in the world to get right. Interestingly enough, this film was actually shot in Australia though and not South Africa which perhaps explains why they could get away with those accents without a local correcting it for them. A pity, because a film like this should really have been shot in the country where it actually happened. I guess you need electricity for your lighting and cameras and so they went elsewhere instead.
The film is scheduled for release in the UK on March 6th with a local release date yet to be announced.
Below is the official synopsis of the film:
Daniel Radcliffe stars as Tim Jenkin – a real-life ANC activist who was imprisoned in Africa's maximum-security prison Pretoria in the 1970s during the Apartheid. Along with two imprisoned fellow freedom fighters, played by Daniel Webber and Mark Leonard Winter, Tim escaped on 11th December 1970 using hand-made wooden keys which he crafted whilst incarcerated.
Last Updated: December 12, 2019