WARNING: THIS ARTICLE CONTAINS SPOILERS FOR AVENGERS: INFINITY WAR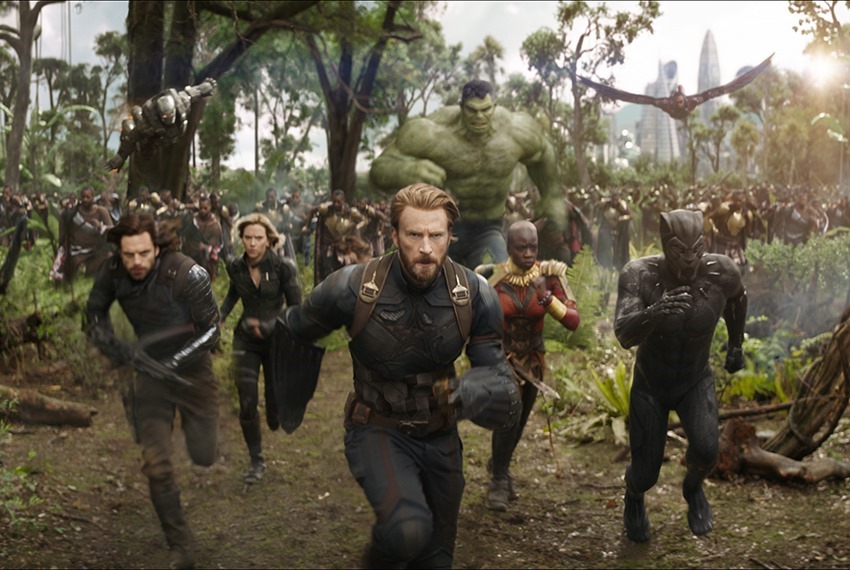 What's in a name? A whole damn lot if we're talking about Avengers 4. Originally billed as simply Avengers: Infinity War Part II, Marvel instead dropped the name for the follow-up to this year's Marvel Cinematic Universe-shaking blockbuster, stating that it's not so much a second part of a film as it is its own thing. But then they didn't tell us what that thing was, and as we've seen so many times in recent memory, fanboys love a mystery. Marvel Films boss Kevin Feige warned us that they're not holding back the name for any big spoilery reasons, but rather because they don't want to take away the focus from the upcoming Ant-Man & The Wasp and Captain Marvel that leads up to it. That hasn't stopped me… Sorry, I mean, those fanboys from speculating endlessly on what the next Avengers film could be called.
Well, speculate no more as it appears that we may have our answer thanks to good ol' human negligence. Despite how closely Marvel guarded the secret it looks like cat is now out of the bag thanks to cinematographer Trent Opaloch whose website lists him working on the upcoming film which is listed as Avengers: End Game. Opalach is a frequent collaborator of directors Joe and Anthony Russo, having worked on all three of their previous Marvel films, so this is a pretty legit source. Once word got out via Omega Underground about the title, Opaloch quickly changed the details on his website to just read Avengers 4. Unfortunately for the cinematographer, this is the Internet, where nothing is ever truly deleted.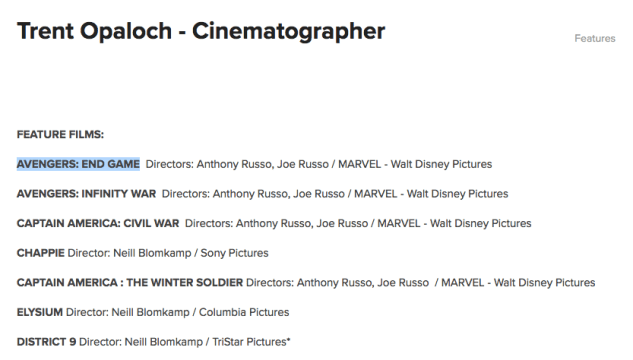 So what does the title mean? Is End Game taking its cue from some celebrated past comic book story arc and thus gives us a big hint at the new direction of the MCU and that's why it was kept secretive despite what Feige claimed? Nope (Sorry, all you crazy speculators). It does have a very literal link though. In a pivotal moment in Infinity War's finale, Doctor Strange, after previously having had his mysterious vision of the future, hands Thanos the Time Stone. When asked by Iron Man why he did that, the Sorcerer Supreme answers that "We're in the end game now." So I guess titles don't get more self-explanatory than that.
Along with the film's title, the Avengers 4 production has sprouted a number of other leaks as well. In the last couple of weeks we've had some promo artwork pop up online unofficially which appears to give us brand new looks at our favourite heroes. More popped up over the weekend as well, so I've rounded them up together below.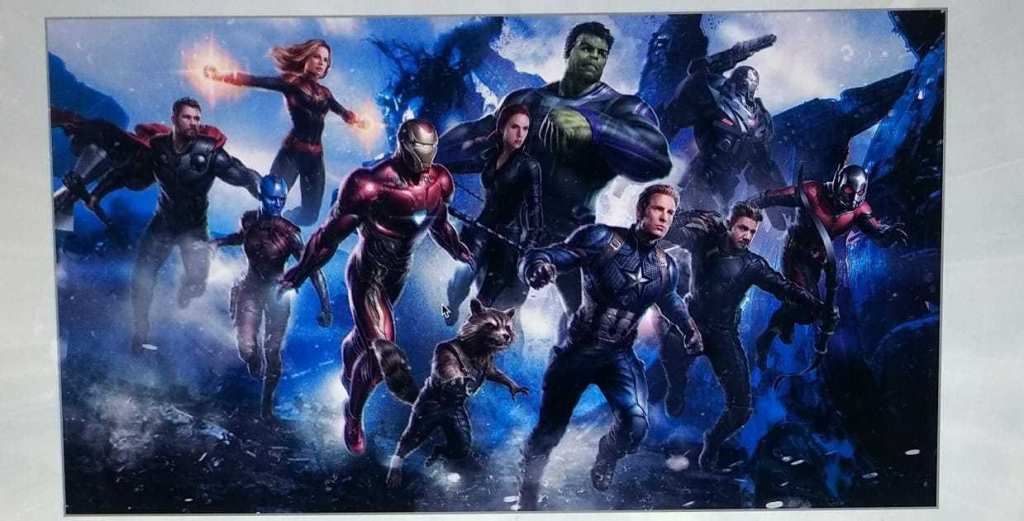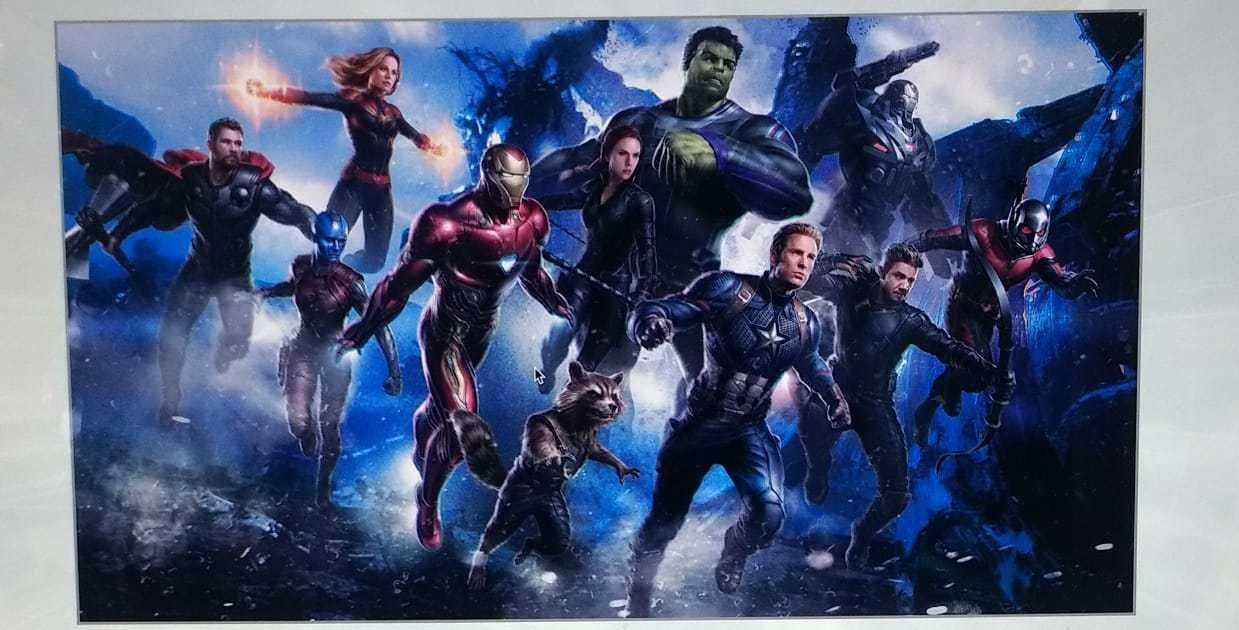 Now I have to point out that promo artwork is not necessarily an accurate representation of a movie, these are usually created quite early in production to help sell the movie to certain parties, but the film can and often does divert from that setup by the time it gets released. That being said, these do look pretty cool. You will notice this team lineup consists of all the heroes who weren't "snapped" out of existence by Thanos, along with Brie Larson's Captain Marvel – confirming she will be in the film, which was pretty much a given before now. Also, it looks like since Thanos' burnt out the Infinity Gauntlet, he's back to being his badass armoured self, complete with a great big sword. Every cosmic despot needs a big sword.
Avengers 4 Character Arts..
War Machine With Really Badass Upgrade
These Are Legit @ManaByte pic.twitter.com/6EwKqQsoXf

— Aj Designs (@ajdesigns0220) June 28, 2018
More #Avengers4 #CaptainMarvel HD Art pic.twitter.com/jTARw8t08O

— Aj Designs (@ajdesigns0220) June 28, 2018
More #CaptainMarvel Art.. ?? pic.twitter.com/XMmIQZHcmP

— Aj Designs (@ajdesigns0220) June 28, 2018
In addition, we see Hulk has not only come out of his shell again, but is actually wearing some kind of uniform that appears to fit perfectly despite his size (Thank the gods! Bruce Banner's wardrobe budget must have been immense!). Jeremy Renner's Hawkeye is also in the mix after being mysteriously absent in the previous film, despite pre-release promo artwork showing him in the Infinity War lineup (see what I meant earlier?). Rumours had pegged Renner's Clint Barton to be using his second comic book alternate ego, Ronin, in Avengers 4, and it would appear that his darker outfit here represents that.
More HD Leaks And Promo Arts Of #Avengers4 Characters #CaptainAmerica #BlackWidow #Hulk #Ronin pic.twitter.com/GUslLIBUVb

— Aj Designs (@ajdesigns0220) June 29, 2018
Another One.. ?? #CaptainAmerica pic.twitter.com/TbRvD4t9RE

— Aj Designs (@ajdesigns0220) June 29, 2018
More Incoming.. ???? #Avengers4 pic.twitter.com/N46yFFNWGv

— Aj Designs (@ajdesigns0220) June 29, 2018
In sort of the reverse, Chris Evans' Captain America has seemingly ditched his darker garb – and scruffy beard – and is back to a more traditional red, white and blue look. I love the chainmail detailing on Cap's costume giving a nod back to his Golden Age comic roots.
It's going to be quite some time before any of this gets officially confirmed though, with Feige revealing to Collider last week that we will only get details "after the Captain Marvel teaser probably." He went on to say that Captain Marvel reveal itself will only come "towards the end of the year", so don't expect anything anytime soon.
Last Updated: July 2, 2018